Eating the Big Fish: How Challenger Brands Can Compete Against Brand Leaders, 2nd Edition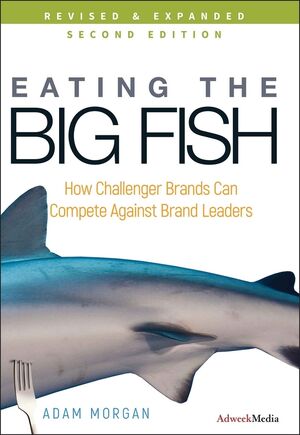 Eating the Big Fish: How Challenger Brands Can Compete Against Brand Leaders, 2nd Edition
ISBN: 978-0-470-23827-1 February 2009 368 Pages
Description
EATING THE BIG FISH : How Challenger Brands Can Compete Against Brand Leaders, Second Edition, Revised and Expanded
The second edition of the international bestseller, now revised and updated for 2009, just in time for the business challenges ahead.
It contains over 25 new interviews and case histories, two completely new chapters, introduces a new typology of 12 different kinds of Challengers, has extensive updates of the main chapters, a range of new exercises, supplies weblinks to view interviews online and offers supplementary downloadable information.
Preface.
Foreword by Antonio Lucio.
Part 1: The Size and Nature of the Big Fish.
1. The Law of Increasing Returns.
2. The Consumer Isn't.
3. What Is a Challenger Brand?
Part 2: The Eight Credos of Successful Challenger Brands.
4. The First Credo: Intelligent Naivety.
5. Monsters and Other Challenges: Gaining Clarity on the Center.
6. The Second Credo: Build a Lighthouse Identity.
7. The Third Credo: Take Thought Leadership of the Category.
8. The Fourth Credo: Create Symbols of Re-Evaluation.
9. The Fifth Credo: Sacrifice.
10. The Sixth Credo: Overcommit.
11. The Seventh Credo: Using Communications and Publicity to Enter Social Culture.
12. The Eight Credo: Become Idea-Centered, Not Consumer-Centered.
Part 3: Applying the Challenger Program.
13. Writing the Challenger Program: The Two-Day Off-Site.
14. The Scope of the Lighthouse Keeper.
Part 4: Mind-Set, Culture, and Risk.
15. Challenger as a State of Mind: Staying Number One Means Thinking Like a Number Two.
16. Risk, Will, and the Circle of Rope.
References and Sources.
Acknowledgments for the Second Edition.
Photo Credits.
Index.