Eclipse For Dummies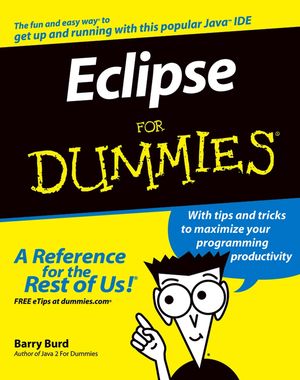 Eclipse For Dummies
ISBN: 978-0-764-58944-7 December 2004 360 Pages
Description
In his friendly, easy-to-understand style, the bestselling author of Java 2
For Dummies shows developers how to get up to speed fast on this popular Java IDE
Eclipse, an open source product originally developed by IBM, has an estimated 500,000 users-a 45 percent market share among Java IDEs
Shows Java developers how to maximize programming productivity with Eclipse, covering all the basics as well as advanced techniques such as using Ant, developing new Eclipse plug-ins, and working with Javadocs JAR files
Introduction.
Part I: The Eclipse Landscape.
Chapter 1: Reader, Meet Eclipse; Eclipse, Meet the Reader.
Chapter 2: Installing Eclipse.
Chapter 3: Using the Eclipse Workbench.
Chapter 4: Changing Your Perspective.
Chapter 5: Some Useful Perspectives and Views.
Part II: Using the Eclipse Environment.
Chapter 6: Using the Java Editor.
Chapter 7: Getting Eclipse to Write Your Code.
Chapter 8: Straight from the Source's Mouse.
Chapter 9: More Eclipse "Sourcery".
Chapter 10: Refactoring: A Burd's Eye View.
Chapter 11: Refactor This!
Chapter 12: Looking for Things in All the Right Places.
Part III: Doing More with Eclipse.
Chapter 13: Working with Projects.
Chapter 14: Running Code.
Chapter 15: Getting Help.
Chapter 16: Squashing Bugs.
Part IV: The Part of Tens.
Chapter 17: Ten Frequently Asked Questions (And Their Answers).
Chapter 18: Ten Great Plug-Ins for Eclipse.
Index.
Code examples from the book

Download
Up-to-date instructions for downloading the JRE
For help installing Eclipse on a Unix/Linix or Mac computer, send email to eclipse@BurdBrain.com.
Download
Plug-in Manifest Editor
Learn about the Plug-in Manifest Editor (How to create a simple Eclipse plug-in).
Download
Public class Swapper
Find out how to swap two variables without using a safekeeper variable (in Chapter 16).
Download
Questions or concerns
For any other questions or concerns, send email to eclipse@BurdBrain.com (or hold for an operator).