Ecological Aquaculture: The Evolution of the Blue Revolution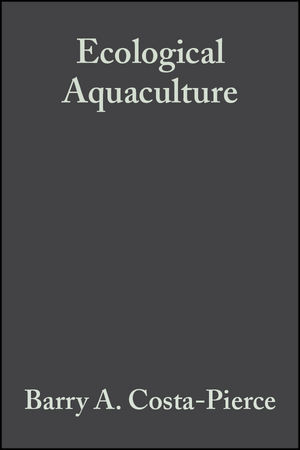 Ecological Aquaculture: The Evolution of the Blue Revolution
ISBN: 978-1-405-14866-5 April 2008 Wiley-Blackwell 400 Pages
Description
As the world's demand for food from aquatic environments continues to increase, the importance of performing aquaculture in an environmentally responsible manner also increases.
The aim of this important and thought-provoking book is to stimulate discussion among aquaculture's modern scientific, education and extension communities concerning the principles, practices and policies needed to develop ecologically and socially sustainable aquaculture systems worldwide. Ecological Aquaculture provides fascinating and valuable insights into primitive (and often sustainable) culture systems, and ties these to modern large-scale aquaculture systems.

The book is edited, and authored to a considerable degree, by Barry Costa-Pierce who has assembled a team of some of the leading thinkers in the field, providing information spanning a spectrum of activities from artisanal to high technology approaches to producing aquatic organisms in a balanced and environmentally-friendly way.

Ecological Aquaculture is an essential purchase for all aquaculture personnel involved in commercial, practical and research capacities. Libraries in research establishments and universities where aquaculture, biological, environmental and aquatic sciences are studied and taught should have copies of this book available on their shelves.
Table of contents
Part 1. The background of ecological aquaculture; History of aquaculture in traditional societies; The Ahupua'a aquaculture ecosystems in Hawai'i; Part 2. The methods of ecological aquaculture; Development and application of genetic tags for ecological aquaculture; Aquaculture escapement, implications and mitigation: the salmonid case study; Farming systems research and extension methods for the development of sustainable aquaculture ecosystems; A market-driven, social ecological approach to planning for sustainable aquaculture: a case study of tilapia in Fiji; Part 3. The context of ecological aquaculture; village-based aquaculture ecosystems as models for sustainable aquaculture; Development in subsaharan Africa; silvofisheries: integrated mangrove forest aquaculture ecosystems; An integrated fish and field crop system for arid areas; Sustainability of cage aquaculture ecosystems for large scale resettlement from hydropower dams: an Indonesian case study; The role of aquaculture in the restoration of coastal fisheries; Part 4. conclusion; Ecology as the paradigm for the future of aquaculture
Reviews
"The contents of this well thought-out and presented book provide much food for thought for those likely to be investiging in managing or legislating about aquaculture in the years to come... particularly valuable for the planners and thinkers among us."
Professional Fisherman, 2003.
"... required reading for anyone interested in producing aquatic organisms in an environmentally responsible manner; which means it should be read by everyone involved in aquaculture." Robert R Stickney, National Shellfisheries Association, Quarterly Newsletter, 2003.
"This book will get you to thinking about sustainable aquaculture with a can-do outlook. I recommend the book highly." Dr James W Avault Jr. Aquaculture Magazine, 2002.
What's New
* the first text relating modern, ecological principles and analytical approaches to aquaculture
* provides in-depth analysis of household and village ecosystems and the social ecology of international aquaculture development
* includes detailed discussions of aquaculture farming systems methods used to revise the entire way aquaculture extension is organized and conducted
* suitable for ecosystems managers and researchers concerned with the roles of aquaculture in aquatic resource management, fisheries enhancement, and natural ecosystems
* the author is a Lecturer in Global Sustainability at the University of California, Irvine. He has spent 20 years in ecological aquaculture research, education, extension, and development worldwide, and as a consultant in fisheries for the World Bank and Asian Development Bank