Ecological Ethics: An Introduction, Updated for 2018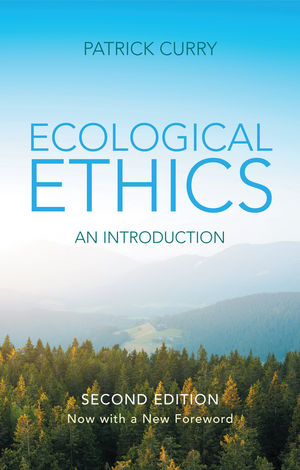 Ecological Ethics: An Introduction, Updated for 2018
ISBN: 978-0-745-65126-2 August 2011 Polity 280 Pages
Download Product Flyer
Download Product Flyer
Download Product Flyer is to download PDF in new tab. This is a dummy description. Download Product Flyer is to download PDF in new tab. This is a dummy description. Download Product Flyer is to download PDF in new tab. This is a dummy description. Download Product Flyer is to download PDF in new tab. This is a dummy description.
Description
In this thoroughly revised and updated second edition of the highly successful
Ecological Ethics
, Patrick Curry shows that a new and truly ecological ethic is both possible and urgently needed. With this distinctive proposition in mind, Curry introduces and discusses all the major concepts needed to understand the full range of ecological ethics.
He discusses light green or anthropocentric ethics with the examples of stewardship, lifeboat ethics, and social ecology; the mid-green or intermediate ethics of animal liberation/rights; and dark or deep green ecocentric ethics. Particular attention is given to the Land Ethic, the Gaia Hypothesis and Deep Ecology and its offshoots: Deep Green Theory, Left Biocentrism and the Earth Manifesto. Ecofeminism is also considered and attention is paid to the close relationship between ecocentrism and virtue ethics. Other chapters discuss green ethics as post-secular, moral pluralism and pragmatism, green citizenship, and human population in the light of ecological ethics. In this new edition, all these have been updated and joined by discussions of climate change, sustainable economies, education, and food from an ecocentric perspective.
This comprehensive and wide-ranging textbook offers a radical but critical introduction to the subject which puts ecocentrism and the critique of anthropocentrism back at the top of the ethical, intellectual and political agenda. It will be of great interest to students and activists, and to a wider public.
Table of contents
Acknowledgements
1 Introduction
This Book
An Initial Example
Looking Ahead
Value and Nature
Ethics and Grub
What's New?
Transparency and Responsibility
2 The Earth in Crisis
The Signs
Analysing Ecocrisis
Science and Technology
3 Ethics
What is Ethics?
Realism vs. Relativism
The Naturalistic Fallacy
Religious Ethics
Secular Ethics
4 Three Schools of Ethics
Deontology ('Rights')
Consequentialism ('Effects')
Virtue Ethics
A Green Virtue Ethic
5 Value
Some Issues
Anthropocentrism
Ecocentrism
6 Light Green or Shallow (Anthropocentric) Ethics
What is a Light Green Ethic?
Environmentalism
Lifeboat Ethics
7 Mid-Green or Intermediate Ethics
Animal Liberation
Animal Rights
Biocentrism
Animals and Us
Wild Animals
Domestic Animals
On (Not) Eating Animals: the Options
8 Dark Green or Deep (Ecocentric) Ethics
A Suggested DeÞnition
The Land Ethic
Gaia Theory
Deep Ecology
Deep Green Theory
Left Biocentrism
Ecocentrism and the Left
The Earth Manifesto
9 Ecofeminism
10 Deep Green Ethics as Post-Secular
Dogmatic Secularism
An Ecocentric Spirituality
Animism
Green Buddhism?
11 Moral Pluralism and Pragmatism
The Poverty of Monism
The Consequences of Pluralism
Multicentrism
12 Green Citizenship and Education
Making it Real
A Long Revolution?
Ecological Education
Traditional Ecological Knowledge
Ecological Republicanism
A Note on Wisdom
13 Grounding Ecological Ethics
The Food System
On Malthus
Climate Change
Wind Power and Energy
Nuclear Energy
Geo-engineering
Carbon Trading and Ecosystem Services: the New Gods of the Market
Sustainability
The Limits to Growth
A Left Ecocentric Guide to Capitalism
Alternatives
Movements in the Right Direction
14 Human Overpopulation
The Problem
Analysing Overpopulation
Taking on the Arguments about Overpopulation
Climate Change Again
Overpopulation and Ecocentrism
15 Postscript
Notes
References
Index
Reviews
"This significantly expanded second edition is indispensable."
Times Higher Education

"A beautifully written account which is immensely satisfying and informative to read. I have seldom read better."
LSE Politics Blog
"A must read - not only for greenies, but especially for the lay person seeking more information on the subject, both from a theoretical and from a practical point of view."
Ethical Perspectives
"It is easy to see why Curry's book is highly relevant to the modern environmentalist. His writing is accessible and his voice doesn't get in the way of the big topics he covers. Such clarity of expression is of great importance for a book that possesses such intellectual vigour. Moreover, such an approach means this can be read and understood not by academics alone but by anyone wishing to better understand their own reactions to environmental dilemmas as well as other people's."
The Ecologist
"Contributes both an original perspective to the field of environmental philosophy and an accessible comprehensive introductory text for undergraduates."
Newsletter of the International Society for Environmental Ethics

"Curry's book is a significant contribution, and it is wholeheartedly recommended for those who are interested in building a better world."
Mother Pelican
"A profoundly useful and informative guide."
Morning Star
"Ecological Ethics is the best practical introduction to the role of philosophy in understanding the greatest environmental challenges of our time. Everyone who wants to make a difference should read it."
David Rothenberg, New Jersey Institute of Technology and author of Survival of the Beautiful and Why Birds Sing
"An excellent introduction to the different schools of ecological ethics, and as importantly, a strong defense of why a deep-green (or ecocentric) ethics represents the future of ethics if we humans wish to sustain a viable civilization on planet Earth."
Erik Assadourian, Senior Fellow and Director of the Transforming Cultures Project, Worldwatch Institute
"Curry is one of the most creative and important new voices in post-secular, or animistic, environmental ethics."

David Keller, Utah Valley University
Features
This is a comprehensively revised and updated edition of Patrick Curry's definitive textbook on ecological ethics, written specifically for a student readership
Provides a thorough discussion of the key concepts which define the field, from lifeboat ethics through to the Gaia Hypothesis
Offers a critical analysis of the very latest debates surrounding the ecocrisis
As well as being an ideal introduction for undergraduates, this will appeal to activists and a wider interested readership