Ecological Thought: An Introduction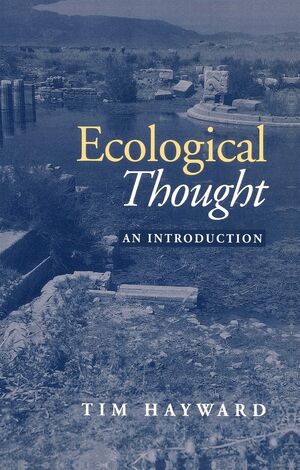 Ecological Thought: An Introduction
ISBN: 978-0-745-61320-8 August 1995 Polity 272 Pages
Description
This book offers a new introduction to the implications of ecology for social and political thought, arguing for green ideas to be taken seriously by mainstream social and political theorists.
Preface.
Acknowledgements.
Introduction: Environmental Values in Social and Political Thought.
1. Ecology and Enlightenment.
2. The Ethics of Ecological Humanism.
3. Environmental Economics, Sustainable Development and Political Ecology.
4. Rights and Justice in Ecological Perspective.
5. Ecological Politics.
Afterword: Ecological Enlightenment.
Notes.
Bibliography.
Index.
"Hayward's book is superbly written, clear, intelligent, balanced and accessible. It has all the qualities of a first-rate introduction to its subject."
Professor Ted Benton, University of Essex

"This book is of great political and theoretical importance. Against the radical ecologist, Hayward argues that we need more humanism, not less; but this is a reconstructed humanism - one in which enlightenment takes an ecological form." Professor Andrew Dobson, University of Keele
"The author provides a well-written examination of the social, economic and political implications of trying to come to terms with the goal of a sustainable environment, looking at all sides of the argument, and developing a theoretical framework for ecological politics." Aslib Book Guide
"Ecological Thought is an important and highly-recommended book ... Well written ... it plumbs many ethical and philosophical aspects of what ecological thinking means." Republican News
"Tim Hayward offers a balanced and altogether impressive overview of the field. Hayward has the ability to state clearly the basic grounds of debate and then to pursue issues in detail, for those interested in learning more ... A very welcome addition to the curriculum on environmental politics/ethics." Environmental Politics
"The book ... provides a clear and accessible overview of most of the major recent currents in ecological ethics, economics and politics. To the student and the general reader it will provide an invaluable introduction to recent ecological thought." Radical Philosophy
"Ideal for student reading lists on environment-related social science courses. Hayward's Ecological Thought offers a clear introduction to the ways in which environmental values reshape debates in social and political thought. The book unpacks concepts of ecology and enlightenment, and outlines issues in environmental economics and political ecology, with brisk clarity." Environmental Values
* This book provides a clear overview of contemporary debates between "radical" and "reformist" environmentalists covering new ground in an innovative way.
* It offers a compelling argument for why green ideas should be taken seriously by mainstream social and political theorists.
* It is written in a highly accessible style.
* It will be essential reading for degree and postgraduate courses in green studies, environmental ethics, etc.