Ecology and Natural Resource Management: Systems Analysis and Simulation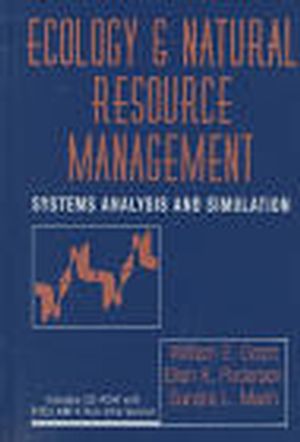 Ecology and Natural Resource Management: Systems Analysis and Simulation
ISBN: 978-0-471-13786-3 March 1997 400 Pages
Description
This book explores the theory and methods of systems analysis and computer modeling as applied to problems in ecology and natural resource management. It reflects the problems and conflicts between competing uses of limited space and the need for quantitative predictors of the outcome of various management strategies.
Partial table of contents:

THE SYSTEMS PERSPECTIVE.

Basic Concepts of Systems Analysis and Simulation.

THEORETICAL FRAMEWORK: FOUR PHASES OF SYSTEMS ANALYSIS.

Conceptual-Model Formulation.

Quantitative-Model Specification.

PRACTICAL GUIDE TO SIMULATION-MODEL DEVELOPMENT AND USE.

Modular Representation of System Structure and Dynamics.

Reporting the Development and Use of Simulation Models.

APPLICATION OF SIMULATION MODELS IN ECOLOGY.

Population Dynamics: Effects of Density-Independent andDensity-Dependent Factors.

APPLICATION OF SIMULATION MODELS IN NATURAL RESOURCEMANAGEMENT.

Forest Management: Effects of Timber Harvest on the RelativeAbundance of Wildlife Species.

References.

About the CD-ROM.

Index.