Ecology of Insects: Concepts and Applications, 2nd Edition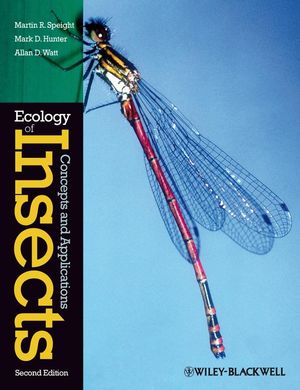 Ecology of Insects: Concepts and Applications, 2nd Edition
ISBN: 978-1-444-30096-3
Jan 2009, Wiley-Blackwell
640 pages
Description
Fully revised and updated to include new topical study areas, the second edition of the successful text the Ecology of Insects provides a balanced treatment of the theory and practice of pure and applied insect ecology.




Includes new topical areas of insect ecology and provides greater coverage of physiological, genetic, molecular, and ecosystem aspects of insect ecology

Concepts include the foundations of evolutionary ecology and population dynamics in ecosystem science as they are applied to topics such as climate change, conservation and biodiversity, epidemiology and pest management

Fully updated and revised throughout, this new edition refers to primary literature and real world examples.
To access the artwork from the book, please visit: http://www.blackwellpublishing.com/speightinsects.
Preface.
1. An Overview of Insect Ecology.
2. Insects and Climate.
3. Insect Herbivores.
4. Resource Limitation.
5. Natural Enemies and Insect Population Dynamics.
6. Evolutionary Ecology.
7. Physiological Ecology.
8. Insects in Ecosystems.
9. Biodiversity.
10. Insect Conservation.
11. Insects and Diseases.
12. Insect Pest Management.
References.
Index
?This volume is a clearly written, contemporary, and scholarly treatment of the ecology of insects, which can serve as both a classroom textbook or general reference.?(
The Quarterly Review of Biology
, September 2009)
"Eminently readable, this volume undoubtedly will be used as a course resource in many classrooms. It will prove to be invaluable reference for a wide variety of entomologists and ecologists, and should be in all libraries with significant biological holdings." (CHOICE, January 2009)
"This book provides a valuable and modern overview of insect ecology with a successful combination of theoretical principles with applied aspects taking population ecology as a leading these ? .The readers will find an extensive body of information and stimulating considerations of insect ecology." (Entomologia Generalis, February 2008)
Figures and Tables from the book are available for downloading below:
You may download the artwork from the book here. You will require "Winzip" (PC) or "Stuffit Expander" (Mac) to access these files.
Figure captions pdf

Download
Figures from the book - Low-resolution files (96 dpi)
These files are stored in a ZIP archive. If your computer is not capable of opening ZIP archives, you can download a trial version of WinZip at WinZip.com.
Chapter 1 zip file

Download
Chapter 2 zip file

Download
Chapter 3 zip file

Download
Chapter 4 zip file

Download
Chapter 5 zip file

Download
Chapter 6 zip file

Download
Chapter 7 zip file

Download
Chapter 8 zip file

Download
Chapter 9 zip file

Download
Chapter 10 zip file

Download
Chapter 11 zip file

Download
Chapter 12 zip file

Download
Colour Plate zip file

Download
Figures from the book - High-resolution files (300 dpi)
These files are stored in a ZIP archive. If your computer is not capable of opening ZIP archives, you can download a trial version of WinZip at WinZip.com.
Chapter 1 zip file

Download
Chapter 2 zip file

Download
Chapter 3 zip file

Download
Chapter 4 zip file

Download
Chapter 5 zip file

Download
Chapter 6 zip file

Download
Chapter 7 zip file

Download
Chapter 8 zip file

Download
Chapter 9 zip file

Download
Chapter 10 zip file

Download
Chapter 11 zip file

Download
Chapter 12 zip file

Download
Colour Plate zip file

Download
Tables from the book pdf
This file is a PDF. If your computer is not capable of opening PDF files, you can download Acrobat Reader here.
Download


Provides a balanced treatment of the theory and practice of pure and applied insect ecology and its crucial importance to the planet

Includes new topical areas of insect ecology and provides greater coverage of physiological, genetic, molecular, and ecosystem aspects of insect ecology

Concepts include the foundations of evolutionary ecology and population dynamics in ecosystem science as they are applied to topics such as climate change, conservation and biodiversity, epidemiology and pest management

Fully updated and revised throughout, this new edition refers to primary literature and real world examples