EconAmerica: Why the American Economy is Alive and Well... And What That Means to Your Wallet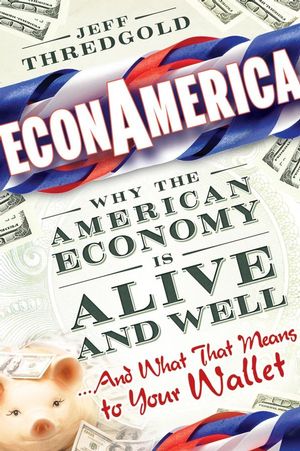 EconAmerica: Why the American Economy is Alive and Well... And What That Means to Your Wallet
ISBN: 978-0-470-16589-8
May 2007
288 pages
Product not available for purchase
Description
Praise for EconAmerica

"If you live in the real world, this book is a must-read. It is packed withusable insights into the future, the global economy, and what you and yourcompany need to know to be competitive now and in the future. Jeff Thredgold makes the dismal science a fun adventure to prepare you for not only what is coming, but how to take advantage of the great opportunities ahead."
--Terry L. Brocksyndicated columnist, marketing coach, www.TerryBrock.com

"In this insightful and practical book, Jeff Thredgold proves that 'interesting economist' isn't an oxymoron. Jeff takes the mystery out of economics and makes it easy to understand. If you want to know what's really going on in the American economy and the impact it has on your quality of living, read this book."
--Mark Sanbornspeaker and bestselling author of The Fred Factor andYou Don't Need a Title to Be a Leader

"With all the economic gloom and doom thrust upon us by the mediaand politicians, through econAmerica, Jeff Thredgold is a fresh breath ofeconomic hope--something that we all so desperately need today."
--Ed RigsbeePresident of Rigsbee Research and author of PartnerShift

"This account of history, economic data, and humanbehavior makes a compelling statement about how the Americaneconomy will prevail as globalization evolves."
--Hazel J. PankeyDirector, Conference Programs, Industrial Asset Management Council

"You continue to amaze us with your outstanding ability to present economic information in terms that everyone can understand, while also making it extremely interesting."
--JOE BELEW
President, Consumer Bankers Association
Preface.
Acknowledgments.
1. The Economy.
U.S. Economic Growth.
Goods & Services.
The Misery Index.
State Of The States.
2. Employment.
U.S. Employment.
A Minimum Wage.
Outsourcing.
Small Business In America.
3. Government.
Taxes.
Government Spending.
Budget Deficits.
The Politics.
4. Entitlement Programs.
The Entitlement Issue.
Social Security.
Medicare & Medicaid.
5. Inflation, Money & Interest Rates.
Inflation.
The Federal Reserve.
Other Central Banks.
Interest Rates.
Gold.
6. The Consumer.
Consumer Incomes.
Consumer Spending...Consumer Debt.
Housing.
7. The Changing Workplace.
Demographics.
Education.
Immigration.
8. American Retirement.
Bridging.
Defined Benefit Plans & The Pbgc.
401(K) & Defined Contribution Plans.
9. Guaranteed American Growth Industries.
Health Care.
Financial Planning.
Leisure & Entertainment.
10. Savings & Investment.
The Stock Market.
Savings.
Net Worth.
11. Major Global Issues.
Energy.
Currencies.
Trade.
12. Major Global Players.
The Pacific Rim.
Europe & Russia.
North America.
13. The Intangibles.
Competition.
Emotions & Confidence.
The Power Of Incentives.
14. The Future.
The American Century...Again.
Index.