Economic Geography: A Contemporary Introduction, 2nd Edition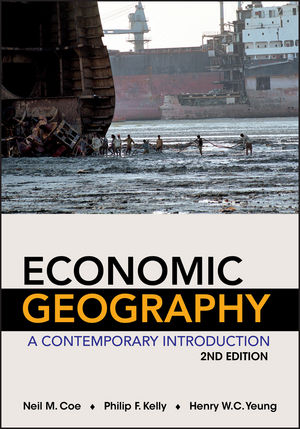 Economic Geography: A Contemporary Introduction, 2nd Edition
ISBN: 978-0-470-94338-0
Jan 2013
576 pages
Description
Economic Geography: A Contemporary Introduction, 2nd Edition tackles major questions of economic life, from the activities of transnational corporations and states, to places of work and consumption. In accessible but sophisticated terms, this book invites students to explore how geographies (location, territory, place and scale) shape both large-scale economic processes and our lived experiences. Throughout this comprehensive text, the authors present contemporary insights from the field of Economic Geography, drawing on examples from across the globe. As students engage with this readable account of the field, they will come away with an understanding of how economic processes are rooted in social, cultural and political realities.
PART ONE: CONCEPTUAL FOUNDATIONS
1. Thinking geographically
2. The economy: what does it mean?
3. Capitalism in motion: why is economic growth so uneven?
PART TWO: MAKING THE (SPATIAL) ECONOMY
4. The state: who runs the economy?
5. Environment/economy: can nature be a commodity?
6. Labour power: can workers shape economic geographies?
7. Making money: why has finance become so powerful?
PART THREE: ORGANIZING ECONOMIC SPACE
8. Commodity chains: where does your breakfast come from?
9. Technological change: is the world getting smaller?
10. The transnational corporation: how does the global firm keep it all together?
11. Spaces of sale: how and where do we shop?
PART FOUR: PEOPLE, IDENTITIES, AND ECONOMIC LIFE
12. Clusters: why do proximity and place matter?
13. Gendered economies: does gender shape economic lives?
14. Ethnic economies: do cultures have economies?
15. Consumption: you are what you buy?

PART FIVE: CONCLUSION

16. Economic Geography: Intellectual Journeys and Future Horizons
Extensive update of examples, data and arguments throughout
New chapter on Finance
Substantial new content on Technology, Retail, Clusters and Consumption
New concluding chapter on the changing contexts for Economic Geography
•Presents the case for the importance of geographical insights into the economy
•Contrasts a distinctively geographical approach with popular conceptions and assumptions in economics and management studies
•Is richly illustrated with examples, vignettes, and case studies drawn from a variety of sectors around the world
•Is written in a clear, engaging and lively style
•Includes a rich array of photos, figures, text boxes, sample essay questions and annotated lists of further reading