Economic Policy 52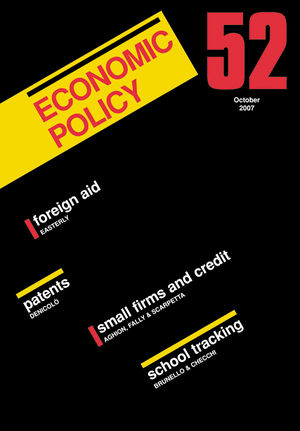 Economic Policy 52
ISBN: 978-1-405-15547-2
Dec 2007, Wiley-Blackwell
224 pages
Product not available for purchase
Description
Economic Policy is written for all those with an informed interest in economic policy problems. All articles are submitted to rigorous scrutiny by a panel of distinguished economists from around the world, resulting in a volume of authoritative and accessible articles, each followed by the comments of panel members.



Economic Policy has earned a reputation around the world as the one publication that always identifies current and emerging policy topics early

Papers are specially commissioned from first-class economists and experts in the policy field

This unique approach guarantees incisive debate and alternative interpretations of the evidence
Editors' Introduction.
1. Are Aid Agencies Improving?: William Easterly.
2. Do Patents Over-compensate Innovators?: Vincenzo Denicoló.
3. Credit Constraints as a Barrier to the Entry and Post-entry Growth of Firms: Phillipe Aghion, Thibault Fally and Stefano Scarpetta.
4. Does School Tracking Affect Equality of Oppurtunity? New International Evidence: Giorgio Brunello and Daniele Checchi


Economic Policy has earned a reputation around the world as the one publication that always identifies current and emerging policy topics early


Papers are specially commissioned from first-class economists and experts in the policy field


The editors are all based at top European economic institutions and each paper is discussed by a panel of distinguished economists


This unique approach guarantees incisive debate and alternative interpretations of the evidence