Economic Policy 53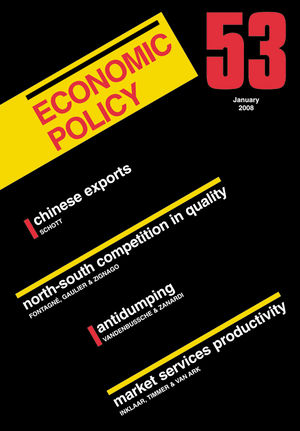 Economic Policy 53
ISBN: 978-1-405-17394-0
Mar 2008, Wiley-Blackwell
288 pages
Product not available for purchase
Description
Top economists provide a concise and accessible evaluation of major developments in trade and trade policy.
They examine the key issues pertinent to the multinational trading system, as well as regional trade arrangements and policy developments at the national level
Provides up-to-date assessments of the World Trade Organization's current Trade Policy Reviews
Economic Policy is written for all those with an informed interest in economic policy problems
All articles are submitted to rigorous scrutiny by a panel of distinguished economists from around the world, resulting in a volume of authoritative and accessible articles, each followed by the comments of panel members
Editors' Introduction.
1. The relative sophistication of Chinese exports (Peter K. Schott, Yale School of Management and NBER).
2. Specialization across varieties and North-South competition (Lionel Fontagné, Paris School of Economics, Université Paris 1 and CEPII); Guillaume Gaulier, Banque de France and CEPII) and Soledad Zignago (CEPII).
3. What explains the proliferaton of antidumping laws? (Hylke Vandenbussche, Université Catholique de Louvain, CORE, KULeuven-LICOS and CEPR and Maurizio Zanardi, Université Libre de Bruxelles ECARES and Tilburg University).
4. Market services productivity across Europe and the US (Robert Inklaar, University of Groningen; Marcel P. Timmer, University of Groningen and Bart van Ark, University of Groningen).


Top economists provide a concise and accessible evaluation of major developments in trade and trade policy

They examine the key issues pertinent to the multinational trading system, as well as regional trade arrangements and policy developments at the national level

Provides up-to-date assessments of the World Trade Organization's current Trade Policy Reviews

Economic Policy is written for all those with an informed interest in economic policy problems

All articles are submitted to rigorous scrutiny by a panel of distinguished economists from around the world, resulting in a volume of authoritative and accessible articles, each followed by the comments of panel members