Economic Policy 55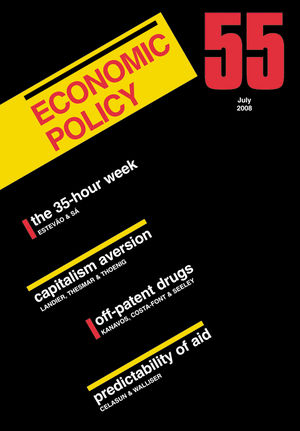 Economic Policy 55
ISBN: 978-1-444-30684-2
Apr 2009, Wiley-Blackwell
256 pages
Product not available for purchase
Description
Top economists provide a concise and accessible evaluation of major developments in trade and trade policy.
Economic Policy has earned a reputation around the world as the one publication that always identifies current and emerging policy topics early
Papers are specially commissioned from first-class economists and experts in the policy field
The editors are all based at top European economic institutions and each paper is discussed by a panel of distinguished economists
This unique approach guarantees incisive debate and alternative interpretations of the evidence
Editors' Introduction.
1. The 35-hour workweek in France: Straightjacket or welfare improvement? (Marcello Estevão and Filipa Sá).
2. Investigating capitalism aversion (Augustin Landier, David Thesmar and Mathias Thoenig).
3. Competition in off-patient drug markets: Issues, regulation and evidence (Panos Kanavos, Joan Costa-Font and Elizabeth Seeley).
4. Predictability of aid: Do fickle donors undermine aid effectiveness? (Oya Celasun and Jan Walliser).


Economic Policy has earned a reputation around the world as the one publication that always identifies current and emerging policy topics early

Papers are specially commissioned from first-class economists and experts in the policy field

The editors are all based at top European economic institutions and each paper is discussed by a panel of distinguished economists

This unique approach guarantees incisive debate and alternative interpretations of the evidence