Economic Policy 56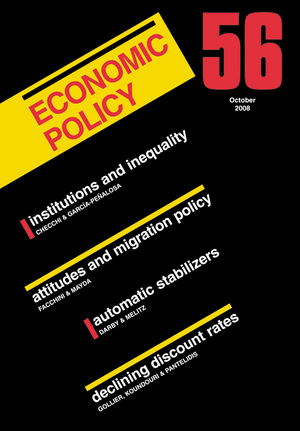 Economic Policy 56
ISBN: 978-1-405-17397-1
Dec 2008, Wiley-Blackwell
256 pages
Product not available for purchase
Description
Top economists provide a concise and accessible evaluation of major developments in trade and trade policy.
Economic Policy has earned a reputation around the world as the one publication that always identifies current and emerging policy topics early
Papers are specially commissioned from first-class economists and experts in the policy field
The editors are all based at top European economic institutions and each paper is discussed by a panel of distinguished economists
This unique approach guarantees incisive debate and alternative interpretations of the evidence
Editors' Introduction.
1. Labour market institutions and income inequality (Daniele Checchi and Cecilia García-Peñalosa).
2. From individual attitudes towards migrants to migration policy outcomes: Theory and evidence (Giovanni Facchini and Anna Maria Mayda).
3. Social spending and automatic stabilizers in the OECD (Julia Darbyand Jacques Melitz).
Economic Policy has earned a reputation around the world as the one publication that always identifies current and emerging policy topics early
Papers are specially commissioned from first-class economists and experts in the policy field
The editors are all based at top European economic institutions and each paper is discussed by a panel of distinguished economists
This unique approach guarantees incisive debate and alternative interpretations of the evidence