Economic Policy 57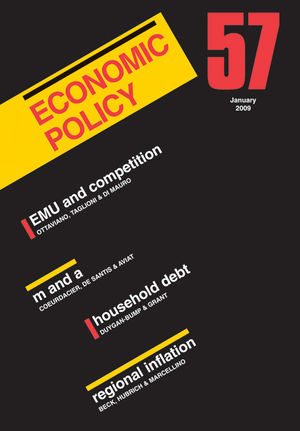 Economic Policy 57
ISBN: 978-1-405-18916-3
Sep 2009
194 pages
Product not available for purchase
Description
Top economists provide a concise and accessible evaluation of major developments in trade and trade policy.



Economic Policy has earned a reputation around the world as the one publication that always identifies current and emerging policy topics early

Papers are specially commissioned from first-class economists and experts in the policy field

The editors are all based at top European economic institutions and each paper is discussed by a panel of distinguished economists

This unique approach guarantees incisive debate and alternative interpretations of the evidence
1. Editors' introduction.
2. The euro and the competitiveness of European firms: Gianmarco I.P. Ottaviano, Daria Taglioni and Filippo di Mauro.
3. Cross-border mergers and acquisitions and European integration: Nicolas Coeurdacier, Roberto A. De Santis and Antonin Aviat.
4. Household debt repayment behaviour: what role do institutions play?: Burcu Duygan-Bump and Charles Grant.
5. Regional inflation dynamics within and across euro area countries and a comparison with the United States: Guenter W. Beck, Kirstin Hubrich and Massimiliano Marcellino.


Economic Policy has earned a reputation around the world as the one publication that always identifies current and emerging policy topics early

Papers are specially commissioned from first-class economists and experts in the policy field

The editors are all based at top European economic institutions and each paper is discussed by a panel of distinguished economists

This unique approach guarantees incisive debate and alternative interpretations of the evidence