Economic Policy 58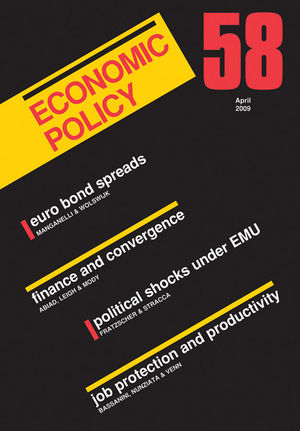 Economic Policy 58
ISBN: 978-1-405-18917-0
Jun 2009, Wiley-Blackwell
320 pages
Product not available for purchase
Description
Top economists provide a concise and accessible evaluation of major developments in trade and trade policy.
Economic Policy has earned a reputation around the world as the one publication that always identifies current and emerging policy topics early

Papers are specially commissioned from first-class economists and experts in the policy field

The editors are all based at top European economic institutions and each paper is discussed by a panel of distinguished economists

This unique approach guarantees incisive debate and alternative interpretations of the evidence
Editors' Introduction.
1. What drives spreads in the euro area government bond market?: Simone Manganelli and Guido Wolswijk.
2. Financial integration, capital mobility, and income convergence: Abdul Abiad, Daniel Leigh and Ashoka Mody.
3. The political economy under monetary union: has the euro made a difference?: Marcel Fratzscher and Livio Stracca.
4. Job protection legislation and productivity growth in OECD countries: Andrea Bassanini, Luca Nunziata and Danielle Venn.
Economic Policy has earned a reputation around the world as the one publication that always identifies current and emerging policy topics early


Papers are specially commissioned from first-class economists and experts in the policy field

The editors are all based at top European economic institutions and each paper is discussed by a panel of distinguished economists

This unique approach guarantees incisive debate and alternative interpretations of the evidence