Economic Policy 61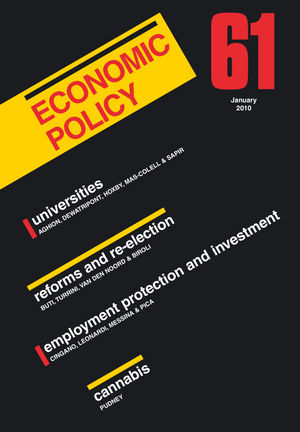 Economic Policy 61
ISBN: 978-1-405-19699-4
Mar 2010, Wiley-Blackwell
224 pages
Product not available for purchase
Description
Top economists provide a concise and accessible evaluation of major developments in trade and trade policy.
Economic Policy has earned a reputation around the world as the one publication that always identifies current and emerging policy topics early
Papers are specially commissioned from first-class economists and experts in the policy field
The editors are all based at top European economic institutions and each paper is discussed by a panel of distinguished economists
This unique approach guarantees incisive debate and alternative interpretations of the evidence
Editors Introduction.
1. The governance and performance of universities: evidence from Europe and the US (Philippe Aghion, Mathias Dewatripont, Caroline Hoxby, Andreu Mas-Colell, André Sapir).
2. Reforms and re-elections in OECD countries (Marco Buti, Alessandro Turrini, Paul Van den Noord, Pietro Biroli).
3. The effects of employment protection legislation and financial market imperfections on investment: evidence from a firm-level panel of EU countries (Federico Cingano, Marco Leonardi, Julián Messina, Giovanni Pica).
4. Drugs policy: what should we do about cannabis (Stephen Pudney).
Index.
Economic Policy has earned a reputation around the world as the one publication that always identifies current and emerging policy topics early
Papers are specially commissioned from first-class economists and experts in the policy field
The editors are all based at top European economic institutions and each paper is discussed by a panel of distinguished economists
This unique approach guarantees incisive debate and alternative interpretations of the evidence