Economic Policy 62: Financial Crisis Issue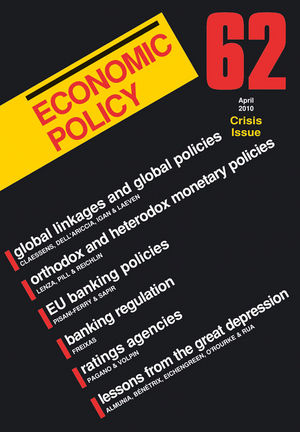 Economic Policy 62: Financial Crisis Issue
ISBN: 978-1-405-19700-7
Jun 2010, Wiley-Blackwell
200 pages
Product not available for purchase
Description
Crisis Issue: The papers in this title have been written in response to the global financial and economic crisis that has been ongoing since Summer 2007.

Top economists provide a concise and accessible evaluation of major developments in trade and trade policy.
Economic Policy has earned a reputation around the world as the one publication that always identifies current and emerging policy topics early
Papers are specially commissioned from first-class economists and experts in the policy field
The editors are all based at top European economic institutions and each paper is discussed by a panel of distinguished economists
This unique approach guarantees incisive debate and alternative interpretations of the evidence
Financial Crisis Issue: Introduction.
1. From Great Depression to Great Credit Crisis: Similarities, Differences and Lessons (Miguel Almunia, Agustín Bénétrix, Barry Eichengreen, Kevin H. O'Rourke and Gisela Rua).
2. Cross-country Experiences and Policy Implications from the Global Financial Crisis (Stijn Claessens, Giovanni Dell'Ariccia, Deniz Igan and Luc Laeven).
3. Monetary Policy in Exceptional Times (Michele Lenza, Huw Pill and Lucrezia Reichlin).
4. Banking Crisis Management in the EU: an Early Assessment (Jean Pisani-Ferry and André Sapir).
5. Post-Crisis Challenges to Bank Regulation (Xavier Freixas).
6. Credit Ratings Failures and Policy Options (Marco Pagano and Paolo Volpin).