Economic Policy 63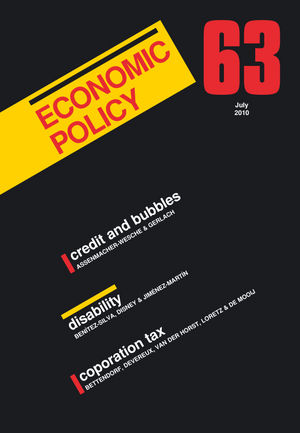 Economic Policy 63
ISBN: 978-1-405-19701-4
Sep 2010, Wiley-Blackwell
160 pages
Product not available for purchase
Description
Top economists provide a concise and accessible evaluation of major developments in trade and trade policy.
Economic Policy has earned a reputation around the world as the one publication that always identifies current and emerging policy topics early

Papers are specially commissioned from first-class economists and experts in the policy field

The editors are all based at top European economic institutions and each paper is discussed by a panel of distinguished economists

This unique approach guarantees incisive debate and alternative interpretations of the evidence
Editors' introduction
1. Monetary policy and financial imbalances: facts and fiction (Katrin Assenmacher-Wesche and Stefan Gerlach)
2. Disability, capacity for work and the business cycle: an international perspective (Hugo Benítez-Silva, Richard Disney and Sergi Jiménez-Martín)
3. Corporate tax harmonization in the EU (Leon Bettendorf, Michael P. Devereux, Albert van der Horst, Simon Loretz and Ruud A. de Mooij)
Index.