Economic Policy 64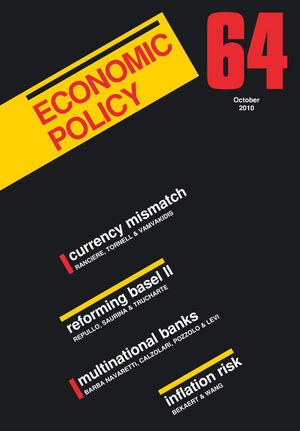 Economic Policy 64
ISBN: 978-1-405-19702-1
Dec 2010, Wiley-Blackwell
216 pages
Product not available for purchase
Description
Top economists provide a concise and accessible evaluation of major developments in trade and trade policy.
Economic Policy has earned a reputation around the world as the one publication that always identifies current and emerging policy topics early
Papers are specially commissioned from first-class economists and experts in the policy field
The editors are all based at top European economic institutions and each paper is discussed by a panel of distinguished economists
This unique approach guarantees incisive debate and alternative interpretations of the evidence
Editors' introduction.
1. Currency mismatch, systemic risk and growth in emerging Europe (Romain Ranciere, Aaron Tornell and Athanasios Vamvakidis).
2. Mitigating the pro-cyclicality of Basel II (Rafael Repullo, Jesus Saurina and Carlos Trucharte).
3. Multinational banking in Europe - financial stability and regulatory implications: lessons from the financial crisis (Giorgio Barba Navaretti, Giacomo Calzolari, Alberto Franco Pozzolo and Micol Levi).
4. Inflation risk and the inflation risk premium (Geert Bekaert and Xiaozheng Wang).
Index.