Economic and Management Methods for Tourism and Hospitality Research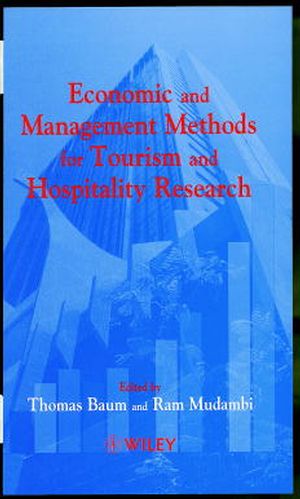 Economic and Management Methods for Tourism and Hospitality Research
ISBN: 978-0-471-98392-7 March 1999 296 Pages
Description
The tourism and hospitality sector is, arguably, one of the largest components of the global economy, with a growth rate in consumption that supersedes that of most other goods and services. As a consequence, the profile of tourists is changing as consumers become more experienced, more demanding, and more likely to treat tourism purchases in very much the same way as they do any other item of consumption. This coupled with the globalisation of communications transport and technology are creating a new environment for tourism professionals. The challenge is now to recognise the breadth of the information environment and to be able to manage it successfully. This book is designed to provide managers and researchers with insights into the practical application of tools for gathering and analysing information. These tools can be used in understanding tourism phenomena and in planning responses. Although quantitative in focus, the methods presented here draw on a variety of disciplinary origins and have application across the range of decision-making contexts that arise in tourism and hospitality. A collection of well-regarded international authors have contributed to this book, giving the reader a broad coverage of area whilst focusing on some key specific topics. A basic knowledge of quantitative and economic concepts and techniques is required to fully appreciate the book and to be able to apply the techniques in real or simulated contexts. Tourism professionals within policy, planning, research and statistics will find this book a useful and practical guide to the subject. Final year undergraduates and postgraduate students will find it a rich source of information for research in the area.
Table of contents
Quantitative Methods: Introductory Note (R. Mudambi).

Input-Output Models (J. Fletcher).

Portfolio Models of Tourism (M. Sinclair).

Transactions Cost Analysis of Tourism (P. Buckley).

Behavioral Models Related to Tourism (S. Hiemstra & J. Ismail).

An Empirical Analysis of Oligopolistic Hotel Pricing: The Case of Bermuda Resort Hotels (T. Baum & R. Mudambi).

A Positioning Analysis of Hotel Brands (C. Dev, et al.).

A Utility Analysis of Cross-Time Tourism Consumption (Z. Gu).

Multidisciplinary Methods: Introductory Note (T. Baum).

Assessing Local Income and Employment Effects of Tourism: Experience Using the Nordic Model of Tourism (M. Paajanen).

Strategic Segmentation: An Empirical Analysis of Tourist Expenditure in Turkey (R. Mudambi & T. Baum).

The Economic Aspects of Location Marketing (S. Wanhill).

Package Holiday Pricing: Cause of the IT Industry's Success, or Cause for Concern? (E. Laws).

Economic Pricing Strategies for Hotels (S. Hiemstra).

Environmental Aspects of Tourism: Applications of Cost-Benefit Analysis (M. Stabler).

Index.