Economics: Theory and Practice, 11th Edition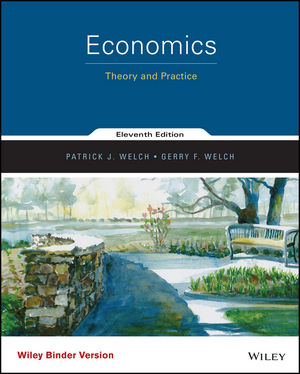 Economics: Theory and Practice, 11th Edition
ISBN: 978-1-118-94973-3
Feb 2016
504 pages
Description
Economics: Theory & Practice, 11th Edition by Patrick J. Welch and Gerry F. Welch connects theory to the practice of economics and the everyday world through examples and applications, debates, and critical thinking cases—some that are classics in the field and others that are fresh and up-to-date. Its balanced coverage of microeconomics and macroeconomics, flexibility in topic coverage order, and the use of appendices and chapter sections to shorten or deepen course material offer a choice of levels and sequences for a course.
Available in WileyPLUS Learning Space! WileyPLUS Learning Space is a collaborative learning environment provides immediate insight into strengths and problem areas through a combination of dynamic course materials and visual reports so that both you and your students can act on what's most important. With WileyPLUS Learning Space, students can create a personalized study plan, assess progress along the way, and make deeper connections as they interact with the course material and each other.
Balance of Macroeconomic and Microeconomic Coverage. Divided into four parts, this text offers a balance of macroeconomic and microeconomic topics. Part One covers basic concepts and definitions, economic systems, and supply and demand. Part Two covers macroeconomics and Part Three covers microeconomics. Part Four covers international economics.
Flexibility in Sequencing of Macroeconomics and Microeconomics. The organization of the material allows instructors to take either a macro/micro or micro/macro sequence.
Student Engagement and Learning. The text contains examples, applications, issue debates, and critical-thinking cases to enable students to connect economic concepts to everyday life.
Up for Debate. These sections within each chapter look at the competing sides of a current economic issue.
Critical Thinking Cases. These cases at the end of each chapter are designed to help students strengthen their understanding of economic concepts in the chapter and develop some critical thinking skills.