Economics For Dummies, 2nd Edition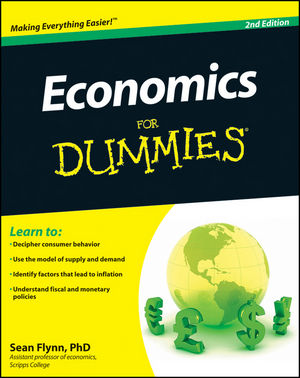 Economics For Dummies, 2nd Edition
ISBN: 978-1-118-03840-6
Mar 2011
408 pages
Product not available for purchase
Description
Grasp the history, principles, theories, and terminology of economics with this updated bestseller
Since the initial publication of Economics For Dummies in 2005, the U.S. has endured a number of drastic changes and events that sent its economy into a tailspin. This newly revised edition presents updated material about the recent financial crisis and the steps taken to repair it.
Packed with refreshed information and relevant new examples from today's economy, it gives you a straightforward, easy-to-grasp understanding of how the economy functions-and how it influences personal finances.
New information on deciphering consumer behavior
Refresh coverage of fiscal and monetary policies
A new chapter on health care policy and the financial crisis
Presenting complex theories in simple terms and helping you decode the jargon, understand the equations, and debunk the common misconceptions, Economics For Dummies tackles the topic in terms you can understand.
Introduction.
Part I: Economics: The Science of How People Deal with Scarcity.
Chapter 1: Discovering What Economics Is and Why You Should Care.
Chapter 2: Cookies or Ice Cream? Exploring Consumer Choices.
Chapter 3: Producing the Right Stuff the Right Way to Maximize Human Happiness.
Part II: Microeconomics: The Theories of Consumer and Firm Behavior.
Chapter 4: Supply and Demand Made Easy.
Chapter 5: Getting to Know Homo Economicus, the Utility-Maximizing Consumer.
Chapter 6: The Core of Capitalism: The Profi t-Maximizing Firm.
Chapter 7: Why Economists Love Free Markets and Competition.
Chapter 8: Monopolies: How Badly Would You Behave If You Had No Competition?
Chapter 9: Oligopoly and Monopolistic Competition: Middle Grounds.
Part III: Applying the Theories of Microeconomics.
Chapter 10: Property Rights and Wrongs.
Chapter 11: Market Failure: Asymmetric Information and Public Goods.
Chapter 12: Taking the Pulse of Health Economics and Finance.
Part IV: Macroeconomics: The Science of Economic Growth and Stability.
Chapter 13: Measuring the Macroeconomy: How Economists Keep Track of Everything.
Chapter 14: Infl ation Frustration: Why More Money Isn't Always a Good Thing.
Chapter 15: Understanding Why Recessions Happen.
Chapter 16: Fighting Recessions with Monetary and Fiscal Policy.
Chapter 17: Grasping the Origins and Aftermath of Financial Crises.
Part V: The Part of Tens.
Chapter 18: Ten Seductive Economic Fallacies.
Chapter 19: Ten Economic Ideas to Hold Dear.
Chapter 20: Ten Great Ways to Become Informed about Economic Issues.
Appendix: Glossary.
Index.