Economics and the Environment, 7th Edition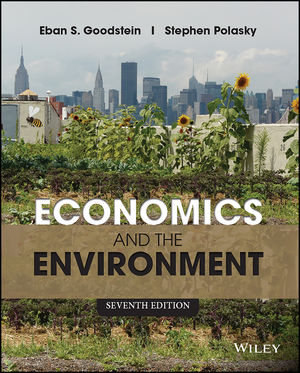 Economics and the Environment, 7th Edition
ISBN: 978-1-118-80546-6
Oct 2013
544 pages
Description
Climate change and other critical environmental challenges are reshaping economic policy and practice. In the 7th edition of Economics and the Environment, Dr. Eban Goodstein and new co-author, Dr. Stephen Polasky, provide students with a clear, concise, and comprehensive presentation of environmental and resource economics.

The text also offers a compelling look at broader topics including the ethical foundations of environmental economics, the promotion of ''clean technology", and the challenges of sustainable development. With a unique framework and compelling narrative style, Goodstein & Polasky provide a timely synthesis of the economic tools available for understanding and solving environmental problems that are crucial for today's students to consider for tomorrow's world.
Preface
Chapter 1: Four Economic Questions about Global Warming
Chapter 2: Ethics and Economics
Chapter 3: Pollution and Resource Degradation as Externalities
Chapter 4: The Efficiency Standard
Chapter 5: Measuring the Benefits of Environmental Protection
Chapter 6: Measuring the Costs of Environmental Protection
Chapter 7: The Safety Standard
Chapter 8: The Sustainability Standard
Chapter 9: Measuring Sustainability
Chapter 10: Natural Resources and Ecosystem Services
Chapter 11: Is More Really Better? Consumption and Welfare
Chapter 12: The Political Economy of Environmental Regulation
Chapter 13: An Overview of Environmental Legislation
Chapter 14: The Regulatory Record: Achievements and Obstacles
Chapter 15: Incentive-Based Regulation: Theory
Chapter 16: Incentive Based Regulation: Practice
Chapter 17: Promoting Clean Technology: Theory
Chapter 18: Energy and the Future
Chapter 19: Poverty, Population, and the Environment
Chapter 20: Environmental Policy in Poor Countries
Chapter 21: The Economics of Global Agreements
The 7th Edition welcomes Dr. Stephen Polasky as a co-author, who brings to the text a reworked and stronger focus on natural resource economics and ecosystem services.
The formerly separate chapters on Neoclassical and Ecological Economics have been reworked into two new chapters: The Sustainability Standard (Chapter 8) and Measuring Sustainability (Chapter 9). Chapters on Measuring Benefits (Chapter 6) and Measuring Costs (Chapter 7) now precede the sustainability discussion.
New chapter on Natural Resources and Ecosystem Services (Chapter 10) covers optimal non-renewable resource extraction; predictions about price paths; optimal renewable harvesting strategies; and the new economics involved in estimating the value of jointly produced ecosystem services.
The discounting discussion has been reframed around the Ramsey equation. It is made clear that discounting at a positive rate only makes sense if weak sustainability is assumed.
Four Clearly Focused Questions organize the text's theories and applications in a way that students can easily understand.
           1.) How much pollution (or resource degradation) is too much? 
           2.) Is government up to the job? 
           3.) How can we do better? 
           4.) How can we resolve global issues?
Balanced introductory coverage of neoclassical versus ecological approaches to sustainability. Dual chapters explore the longstanding controversy.
Accessible for both economics and environmental studies students. No matter what the students' background or attitude, the text invites the students to learn more.
Student-friendly writing style and puzzles encourage students to learn more about substantive topics such as depreciating stocks of oil and other natural capital.