Economics of Farm Management in a Global Setting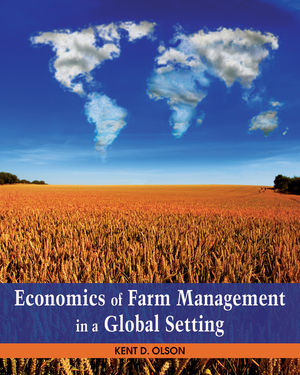 Economics of Farm Management in a Global Setting
ISBN: 978-0-470-91377-2
Feb 2011
560 pages
Description
Agricultural economics students require the right blend of tools and knowledge to become future farm managers.  Olson's Economics of Farm Management in a Global Setting focuses on running a farm as a business.  This text prepares students in strategic and operational business planning while covering all essential topics from long-term financing to biofuels.  In today's world where successful farms are subject to ever changing urban, rural, labor, demographics, and technological factors, Olson's text provides a clear focus and methodology for undergraduate Farm Management students.
Preface.
Acknowledgments.
Chapter 1 Managing the Farm in an Integrated World Economy.
Chapter 2 Management.
Chapter 3 Business Plans.
Chapter 4 Lessons from Microeconomics.
Chapter 5 Lessons from Macroeconomics.
Chapter 6 Government Policies Affecting Farming around the World.
Chapter 7 Strategic Management: Planning.
Chapter 8 Strategic Management: External and Internal Analysis.
Chapter 9 Crafting Strategy.
Chapter 10 Strategy Execution and Control.
Chapter 11 Marketing Basics.
Chapter 12 Financial Statements.
Chapter 13 Financial Analysis.
Chapter 14 Financial Management.
Chapter 15 Enterprise Budgets: Uses and Development.
Chapter 16 Partial Budgets.
Chapter 17 Whole-Farm Planning.
Chapter 18 Operations Management for the Farm.
Chapter 19 Quality Management and Control.
Chapter 20 Investment Analysis.
Chapter 21 Land Ownership and Use.
Chapter 22 Risk Management.
Chapter 23 Production Contract Evaluation.
Chapter 24 Human Resource Management.
Chapter 25 Business Organization.
Chapter 26 Farm Transfer and Succession Planning.
Chapter 27 Farming in the Future.
Appendices.
Glossary.
Index.
Presents the unique perspective of running a farm as a business.
Strategic business planning framework:  accounting, finance, and marketing issues are all well addressed.
Broad range of essential topics from long-term financing, crop management, and modern and international farming issues.
Thorough coverage of modern farming issues with regard to organic crops, farmer's markets, biofuels, and labor and immigration issues.
International examples from Europe, Brazil, Australia, and Asia.
Significant coverage of core microeconomic and macroeconomic issues and trends.