Economics of Strategy, 6th Edition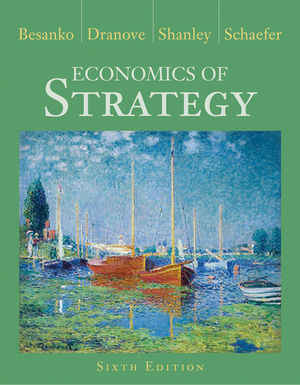 Economics of Strategy, 6th Edition
ISBN: 978-1-118-27363-0
Sep 2012
560 pages
Product not available for purchase
Description
In today's global recession, strong management of firms and organizations are of the utmost importance. Economics of Strategy focuses on the key economic concepts students must master in order to develop a sound business strategy.
The text also brings economic theory and strategic analysis to life in an engaging and uniquely modern way. Besanko, Dranove, Shanley, and Schaefer have collaborated for over 15 years to build an introductory business course that combines basic concepts from economic theory of the firm and industrial organization with ideas from modern strategy literature.
Ideal for undergraduate managerial economics and business strategy courses, Economics of Strategy offers real-world applications to make these courses more relevant. Armed with general principles, today's students—tomorrow's future managers—will be prepared to adjust their firms' business strategies to the demands of the ever-changing environment.
INTRODUCTION: STRATEGY AND ECONOMICS 1
ECONOMICS PRIMER: BASIC PRINCIPLES 9
PART ONE: FIRM BOUNDARIES
1 The Power of Principles: An Historical Perspective 41
2 The Horizontal Boundaries of the Firm 61
3 The Vertical Boundaries of the Firm 98
4 Integration and Its Alternatives 132
PART TWO: MARKET AND COMPETITIVE ANALYSIS
5 Competitors and Competition 165
6 Entry and Exit 196
7 Dynamics: Competing Across Time 226
8 Industry Analysis 258
PART THREE: STRATEGIC POSITION AND DYNAMICS
9 Strategic Positioning for Competitive Advantage 293
10 Information and Value Creation 333
11 Sustaining Competitive Advantage 363
PART FOUR: INTERNAL ORGANIZATION
12 Performance Measurement and Incentives 401
13 Strategy and Structure 437
14 Environment, Power, and Culture 470
GLOSSARY 501
NAME INDEX 511
SUBJECT INDEX 517
• Consolidated Chapters such as Economies of Scale and Diversification, and added chapters like Information and Value Creation provide the most current topics in an easy to understand way for students. Updates also include:
Firms informing consumers about their points of differentiation.
How firms, markets, and certifiers disclose information about product attributes.
Focus on the success of "internet" businesses.
• Expanding on and Introducing Theoretical Ideas: Readers will find detailed treatment of the Property Rights Theory of the Firm, Business Groups, Dynamic Learning Models, Endogenous Sunk Costs, Rent Seeking Behavior, Disruptive Technologies, and other Topics.
• New Real-World Examples are drawn from around the world and cover business practices from the eighteenth century to the present day.
Comprehensive, cutting-edge academic thinking about business strategy from an economics approach.
Supplies students with an economic lens for viewing the activities of firms and a logical framework for strategic analysis.
Focuses on breadth and a higher level of analysis while offering illustrative and highly engaging real-world examples.
The four "big" issues businesses face: boundaries of the firm, market and competitive analysis, position and dynamics, and internal organization.
Porter's Five Forces:  Perspective on how to use this model of industry analysis as an organizational tool.
Delves into economic principles and models without overemphasizing advanced math. 
Includes many examples involving international businesses and business practices from the eighteenth century to the present day.