Economics of Strategy, 7th Edition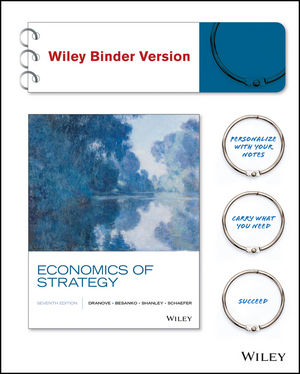 Economics of Strategy, 7th Edition
ISBN: 978-1-119-17477-6 September 2015 544 Pages
Description
Economics of Strategy focuses on the key economic concepts students must master in order to develop a sound business strategy. Ideal for undergraduate managerial economics and business strategy courses, Economics of Strategy offers a careful yet accessible translation of advanced economic concepts to practical problems facing business managers. Armed with general principles, today's students--tomorrows future managers--will be prepared to adjust their firms business strategies to the demands of the ever-changing environment.
INTRODUCTION: STRATEGY AND ECONOMICS
Why Study Strategy?
Why Economics?
So What's the Problem?
A Framework for Strategy
The Book
Endnotes
ECONOMICS PRIMER: BASIC PRINCIPLES
Costs
Economic Costs and Profitability
Demand and Revenues
Total Revenue and Marginal Revenue Functions
Theory of the Firm: Pricing and Output Decisions
Perfect Competition
Game Theory
Chapter Summary
Questions
Endnotes
PART ONE FIRM BOUNDARIES
1 THE POWER OF PRINCIPLES: AN HISTORICAL PERSPECTIVE
Doing Business in 1840
Doing Business in 1910
Doing Business Today
Three Different Worlds: Consistent Principles, Changing Conditions, and Adaptive Strategies
Chapter Summary
Questions
Endnotes
2 THE HORIZONTAL BOUNDARIES OF THE FIRM
Definitions
Scale Economies, Indivisibilities, and the Spreading of Fixed Costs
Special Sources of Economies of Scale and Scope
Complementarities and Strategic Fit
Sources of Diseconomies of Scale
The Learning Curve
Diversification
Why Do Firms Diversify?
Managerial Reasons for Diversification
The Market for Corporate Control and Recent Changes in Corporate Governance
Performance of Diversified Firms
Chapter Summary
Questions
Endnotes
3 THE VERTICAL BOUNDARIES OF THE FIRM
Make versus Buy
Reasons to "Buy"
Reasons to "Make"
Summarizing Make-or-Buy Decisions: The Make-or-Buy Decision Tree
Chapter Summary
Questions
Endnotes
4 INTEGRATION AND ITS ALTERNATIVES
What Does It Mean to Be "Integrated"?
Governance
Making the Integration Decision
Real-World Evidence
Alternatives to Vertical Integration
Chapter Summary
Questions
Endnotes
PART TWO MARKET AND COMPETITIVE ANALYSIS
5 COMPETITORS AND COMPETITION
Competitor Identification and Market Definition
Measuring Market Structure
Market Structure and Competition
Oligopoly
Evidence on Market Structure and Performance
Chapter Summary
Questions
Endnotes
6 ENTRY AND EXIT
Some Facts about Entry and Exit
Entry and Exit Decisions: Basic Concepts
Entry-Deterring Strategies
Evidence on Entry-Deterring Behavior
Contestable Markets
An Entry Deterrence Checklist
Entering a New Market
Chapter Summary
Questions
Endnotes
7 DYNAMICS: COMPETING ACROSS TIME
Microdynamics
Impediments to Coordination
Asymmetries among Firms and the Sustainability of Cooperative Prices
Facilitating Practices
Where Does Market Structure Come From?
Sutton's Endogenous Sunk Costs
Chapter Summary
Questions
Endnotes
8 INDUSTRY ANALYSIS
Performing a Five-Forces Analysis
Coopetition and the Value Net
Applying the Five Forces: Some Industry Analyses
Chapter Summary
Questions
Endnotes
PART THREE STRATEGIC POSITION AND DYNAMICS
9 STRATEGIC POSITIONING FOR COMPETITIVE ADVANTAGE
Competitive Advantage and Value Creation: Conceptual Foundations
Strategic Positioning: Cost Advantage and Benefit Advantage
Diagnosing Cost and Benefit Drivers
Strategic Positioning: Broad Coverage versus Focus Strategies
Chapter Summary
Questions
Endnotes
10 INFORMATION AND VALUE CREATION
The "Shopping Problem"
Report Cards
The Certifier Market
Matchmaking
Chapter Summary
Questions
Endnotes
11 SUSTAINING COMPETITIVE ADVANTAGE
Market Structure and Threats to Sustainability
The Resource-Based Theory of the Firm
Impediments to Imitation
Early-Mover Advantages
Imperfect Imitability and Industry Equilibrium
Creating Advantage and Creative Destruction
Innovation and the Market for Ideas
Evolutionary Economics and Dynamic Capabilities
The Environment
Chapter Summary
Questions
Endnotes
PART FOUR INTERNAL ORGANIZATION
12 PERFORMANCE MEASUREMENT AND INCENTIVES
The Principal–Agent Relationship
Performance-Based Incentives
Problems with Performance-Based Incentives
Performance Measures That Fail to Reflect All Desired Actions
Selecting Performance Measures: Managing Trade-offs between Costs
Do Pay-for-Performance Incentives Work?
Implicit Incentive Contracts
Efficiency Wages and the Threat of Termination
Incentives in Teams
Chapter Summary
Questions
Endnotes
13 STRATEGY AND STRUCTURE
An Introduction to Structure
Types of Organizational Structures
Strategy-Environment Coherence
Structure Follows Strategy
Chapter Summary
Questions
Endnotes
14 ENVIRONMENT, POWER, AND CULTURE 456
The Social Context of Firm Behavior
Internal Context
Power
Culture
External Context, Institutions, and Strategies
Chapter Summary
Questions
Endnotes
GLOSSARY
NAME INDEX
SUBJECT INDEX
Extended Coverage Expanded and updated treatment of key areas such as the economics of innovation, strategic sources, value creation, commitment and dynamics, emerging economies, information disclosure with examples of Facebook and Google, and the practice of using intelligence to identify a firm's top competitors.
New Examples Additional examples with more variety of topics involving international business and business practices from the eighteenth century to present day.
Applications Practical applications through Financial Statement Analysis exercises that relate to real companies in virtually every chapter.
Easy Assessment New automatically graded multiple-choice test bank questions make assessment simple to create and schedule in WileyPLUS Learning Space.
WileyPLUS Learning Space addresses the challenges of student readiness and retention, and helps instructors and students improve learning outcomes by integrating course content with learning tools, assessment, and practice activities in one platform.
Designed to engage today's student, WileyPLUS Learning Space is an easy way to help your students learn, collaborate, and grow. Using the Course Stream and dynamic e-textbook, students will ask more questions, share more insights, and see how their participation leads to progress.