Economics of Strategy, 7th Edition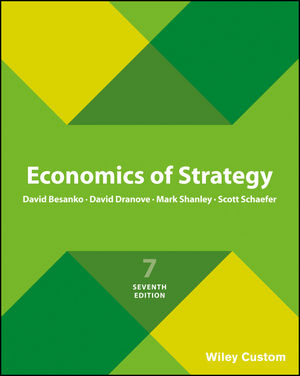 Economics of Strategy, 7th Edition
ISBN: 978-1-119-37876-1
Jul 2018
544 pages
Description
Economics of Strategy focuses on the key economic concepts students must master in order to develop a sound business strategy. Ideal for undergraduate managerial economics and business strategy courses, Economics of Strategy offers a careful yet accessible translation of advanced economic concepts to practical problems facing business managers. Armed with general principles, today's students--tomorrows future managers--will be prepared to adjust their firms business strategies to the demands of the ever-changing environment.
PART ONE: FIRM BOUNDARIES
1. The Power of Principles: An Historical Perspective
2. The Horizontal Boundaries of the Firm
3. The Vertical Boundaries of the Firm
4. Integration and Its Alternatives
PART TWO: MARKET AND COMPETITIVE ANALYSIS
5. Competitors and Competition
6. Entry and Exit
7. Dynamics: Competing Across Time
8. Industry Analysis
PART THREE: STRATEGIC POSITION AND DYNAMICS
9. Strategic Positioning for Competitive Advantage
10. Information and Value Creation
11. Sustaining Competitive Advantage
PART FOUR: INTERNAL ORGANIZATION
12. Performance Measurement and Incentives
13. Strategy and Structure
14. Environment, Power, and Culture
Extended Coverage Expanded and updated treatment of key areas such as the economics of innovation, strategic sources, value creation, commitment and dynamics, emerging economies, information disclosure with examples of Facebook and Google, and the practice of using intelligence to identify a firm's top competitors.
New Examples Additional examples with more variety of topics involving international business and business practices from the eighteenth century to present day.
Applications Practical applications through Financial Statement Analysis exercises that relate to real companies in virtually every chapter.