Econospinning: How to Read Between the Lines When the Media Manipulate the Numbers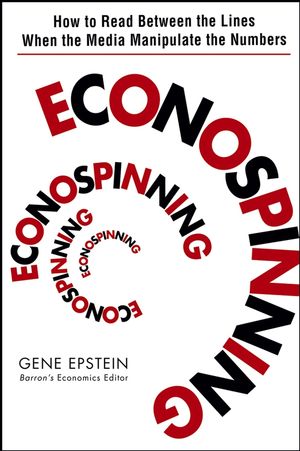 Econospinning: How to Read Between the Lines When the Media Manipulate the Numbers
ISBN: 978-0-471-73513-7 August 2006 246 Pages
Description
Gene Epstein knows a thing or two about economic data. Before becoming the Economics Editor for Barron's in 1993, he was a senior economist at the New York Stock Exchange. Now in
Econospinning
, Epstein supplies readers with a book that attempts to cut through the veil of economic misinformation commonly reported in today's media.
Assuming no prior knowledge on the readers part, each chapter of Econospinning is structured around fairly simple propositions about the economy or about specific economic data—from tracking employment numbers to measuring corporate profitability—that are then contrasted with the distortions of today's media coverage.
Along the way, Epstein exposes bad reporting by the elite media, including The Wall Street Journal, The Financial Times, The New York Review of Books, The New Yorker, The Economist—and especially by The New York Times and its economics columnist Paul Krugman,
Epstein also deconstructs CNN newscaster Lou Dobbs' coverage of outsourcing and globalization; the illusory connection between abortion and lower crime rates, and bad theories about the role of real estate brokers, featured in the bestseller Freakonomics; the treatment of the working class portrayed in Barbara Ehrenreich's Nickel and Dimed; and the sensationalized coverage of the employment report by CNBC's "Squawk Box."
From the disputes over Social Security to misinterpretations of the unemployment rate, Econospinning points out the unfortunate lack of integrity that pervades mainstream economic reporting.
Gene Epstein (New York, NY) has been Barron's Economics Editor since 1993 and writes the column, "Economic Beat." A frequent speaker on the conference circuit, Epstein has been interviewed on CNBC, CNN, NJN Public TV, and BBC TV. He holds an MA in economics from the New School and a BA from Brandeis University.
Table of contents
Preface.
Acknowledgments.
Chapter 1: Eldercare Fraud.
Chapter 2: Two Ways to Measure Employment.
Chapter 3: Bush League Economics.
Chapter 4: Long-Term Unemployment Myths.
Chapter 5: The Case of the Phantom Dropouts.
Chapter 6: Participation Rate Follies.
Chapter 7: What Does the Employment-Population Ratio Tell Us?
Chapter 8: May Average Hourly Earnings Rest in Peace.
Chapter 9: Hourly Compensation and the Unemployment Rate.
Chapter 10: Wages and Productivity.
Chapter 11: The Record Profit Boom That Never Happened.
Chapter 12: End the Monthly Madness: The Change in Payroll Employment Data.
Chapter 13: End the Monthly Madness: The Unemployment Rate.
Chapter 14: Greenspan Idolatry.
Chapter 15: Best-Selling Myths: Freakonomics.
Chapter 16:Best-Selling Myths: Nickel and Dimed.
Chapter 17: Dobbs and Jobs.
Afterword.
Notes.
Index.
New To This Edition
Offers students a systematic how-to on wading through false and misleading economic data. Epstein warns readers of certain writers and media venues that are tricksters at heart. 
Gives students simple rules to live by when practicing the art of gleaning through new economic news. 
A great book to require along with any  main economics text.
Reviews
"Econospinning has everything going for it. The book's focus - how economists and publications mislead readers, often to buttress their ideological positions - is inherently important."--Australian Financial Review
"There is lots more to Epstein's book and it is all of the highest quality."  (Quarterly Journal of Austrian Economics, Winter 2007)