Edison to Enron: Energy Markets and Political Strategies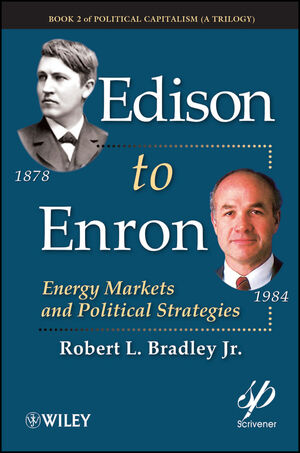 Edison to Enron: Energy Markets and Political Strategies
ISBN: 978-1-118-19251-1 October 2011 602 Pages
Description
The oil industry in the United States has been the subject of innumerable histories. But books on the development of the natural gas industry and the electricity industry in the U.S. are scarce. Edison to Enron is a readable flowing history of two of America's largest and most colorful industries.

It begins with the story of Samuel Insull, a poor boy from England, who started his career as Thomas Edison's right-hand man, then went on his own and became one of America's top industrialists. But when Insull's General Electric's energy empire collapsed during the Great Depression, the hitherto Great Man was denounced and prosecuted and died a pauper. Against that backdrop, the book introduces Ken Lay, a poor boy from Missouri who began his career as an aide to the head of Humble oil, now part of Exxon Mobil. Lay went on to become a Washington bureaucrat and energy regulator and then became the wunderkind of the natural gas industry in the 1980s with Enron.

To connect the lives of these two energy giants, Edison to Enron takes the reader through the flamboyant history of the American energy industry, from Texas wildcatters to the great pipeline builders to the Washington wheeler-dealers.

From the Reviews...

"This scholarly work fills in much missing history about two of America's most important industries, electricity and natural gas."
—Joseph A. Pratt, NEH-Cullen Professor of History and Business, University of Houston

"... a remarkable book on the political inner workings of the U.S. energy industry."
—Robert Peltier, PE, Editor-in-Chief, POWER Magazine

"This is a powerful story, brilliantly told."
—Forrest McDonald, Historian
Preface.
Introduction.
Part I. The Chief: Samuel Insull.
Chapter 1. Building General Electric.
Chapter 2. Dynamo at Chicago Edition: 1892-1907.
Chapter 3. Expanding Horizons: 1907-1918.
Chapter 4. Peak and Peril: 1919-1929.
Chapter 5. Plummet and Ruin: 1930-38.
Part II. The Boss: Jack Bowen.
Chapter 6. Meadows to Murchison.
Chapter 7. A Monumental Mistake.
Chapter 8. Florida Gas Company.
Chapter 9. Transco Energy Company.
Part III. Houston Natural Gas Corporation.
Chapter 10. The Prince of Bankruptcy: John Henry Kirby.
Chapter 11. Robert Herring and Ray Fish.
Chapter 12. Formation of Maturation.
Chapter 13. Robert Herring and After.
Epilogue Market Order, Political Challenges.
Bibliography.
Illustration Credits.
Name Index.
Subject Index.
"Summing Up: Highly recommended.  General readers; all levels of undergraduate students."  (Choice, 1 March 2012)