Editing Today, 2nd Edition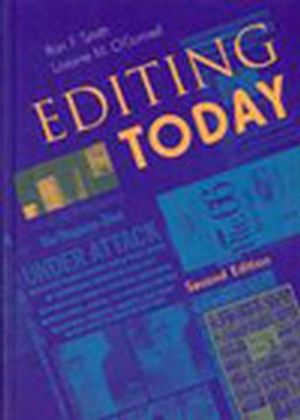 Editing Today, 2nd Edition
ISBN: 978-0-813-81306-6 February 2007 Wiley-Blackwell 261 Pages
Description
In this era of media convergence, the second edition of Editing Today continues the evolutionary transformation of Martin L. Gibson's classic Editing in the Electronic Era, introducing prospective journalists to the basics of editing and design by following a true story through these processes at a major newspaper, on the newspaper's Web desk, and on its TV outlet. Readers are guided through the fundamentals of editing both words and layout with contemporary software.


Expanded and updated sections address pagination, verifying information, grammar, wordiness, editing the hard-news story, telling the news in other ways, copyright law, design, Photoshop, page layout, and Web design. Through more photos, more examples, and more compelling design, the textbook and workbook of Editing Today, 2nd Edition effectively prepare journalism students and working professionals for the challenges of editing and designing in this era of media convergence. The related Editing Today Workbook, Second Edition, provides practical exercises to sharpen student skills.


Editing Today, Second Edition is a first-class textbook for students and faculty in journalism and mass communication programs and a comprehensive reference for professional journalists
Introduction.
I. THE COPY EDITOR'S JOB.
The Evolution of a News Story.
Life on the Copy Desk.
II. HELPING REPORTERS TELL THEIR STORIES.
Grammar.
Punctuation.
Idiom and Syntax.
Editing the Hard-News Story.
Other Ways to Tell the News.
Editing Copy from the Wire Services.
Math and the Journalist.
Writing Headlines.
Editors, Law and Ethics.
III. USING PICTURES, GRAPHICS AND DESIGN.
Typography.
Editing Photographs and Graphics.
The Basics of Page Design.
Editing and Designing Web Pages.
Appendixes.
Index.