Edmund Husserl: Founder of Phenomenology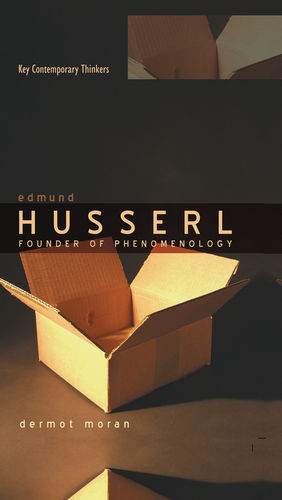 Edmund Husserl: Founder of Phenomenology
ISBN: 978-0-745-63943-7 May 2013 Polity 312 Pages
Description
Dermot Moran provides a lucid, engaging, and critical introduction to Edmund Husserl's philosophy, with specific emphasis on his development of phenomenology. This book is a comprehensive guide to Husserl's thought from its origins in nineteenth-century concerns with the nature of scientific knowledge and with psychologism, through his breakthrough discovery of phenomenology and his elucidation of the phenomenological method, to the late analyses of culture and the life-world. Husserl's complex ideas are presented in a clear and expert manner. Individual chapters explore Husserl's key texts including
Philosophy of Arithmetic
,
Logical Investigations
,
Ideas
I,
Cartesian Meditations
and
Crisis of the European Sciences
. In addition, Moran offers penetrating criticisms and evaluations of Husserl's achievement, including the contribution of his phenomenology to current philosophical debates concerning consciousness and the mind.
Edmund Husserl is an invaluable guide to understanding the thought of one of the seminal thinkers of the twentieth century. It will be helpful to students of contemporary philosophy, and to those interested in scientific, literary and cultural studies on the European continent.
Table of contents
Acknowledgements.
Abbreviations.
Introduction.
Chapter One: Edmund Husserl (1859-1938): Life and Writings.
Chapter Two: Husserl's Conception of Philosophy.
Chapter Three: The Philosophy of Arithmetic (1891).
Chapter Four: Husserl's 'Breakthrough Work': Logical Investigations (1900/1901).
Chapter Five: The Eidetic Phenomenology of Consciousness.
Chapter Six: Husserl's Transcendental.
Phenomenology: An Infinite Project.
Chapter Seven: The Ego, Embodiment, Otherness, Intersubjectivity, and the 'Community of Monads'.
Chapter Eight: Conclusion: Husserl's Contribution to Philosophy.
Notes.
Bibliography.
Index
Reviews
'Outstanding ... it offers an overarching introductory account of the basic themes and key developmental phases of Husserl's thought, giving a clear picture of its intellectual roots in Cartesian and (most importantly) Kantian philosophy.'
Stephen Mulhall, Times Higher Education Supplement

'Executed with scholarly brio and elegance ... Moran has put together a comprehensive - but not tiresome - presentation of Husserl, boasting a vast and updated array of sources deftly employed in exploring the thought and the person behind Phenomenology ... Moran commands Husserl's oeuvre convincingly, using archival material, published Nachlass, and epistolary sources for the sake of making the reader well acquainted with this "man of infinite tasks". One will not find here a languid repetition of famous passages and formulas, but rather an intelligent, systematic recast of Husserl's thought, exhibiting many a precious jewel not found in the more popular, translated works. Moran also does the reader a favor by presenting Husserl in relation to his contemporaries and his followers, as well as in dialogue with our contemporaries, for whom Husserlian Phenomenology still has much to offer.'

Tijdschrift voor Filosofie
Features


Written by an authority on Husserl and phenomenology. Dermot Moran's 'Introduction to Phenomenology' published by Routledge has been incredibly successful.

This will be the most comprehensive, high quality volume on Husserl available. It is an 'advanced introduction', which fits the level at which Husserl and his thought is taught on courses.

Individual chapters deal with Husserl's key works, clarifying the difficult concepts that the philosopher theorised throughout his career.

Weaves Husserl's ideas into a biographical narrative to offer valuable insight into the context and development of Husserl's thought.