Education For All: Critical Issues in the Education of Children and Youth with Disabilities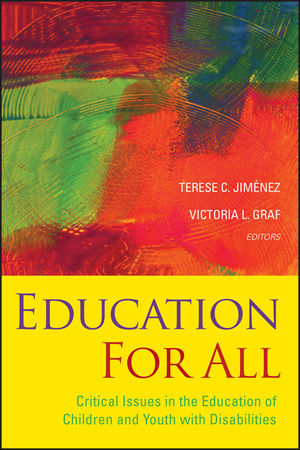 Education For All: Critical Issues in the Education of Children and Youth with Disabilities
ISBN: 978-1-118-75481-8
Feb 2008, Jossey-Bass
396 pages
Description
Education for All offers an important resource for educators and parents who teach and support the more than 6.5 million students with disabilities. The book includes contributions from some of the most respected special and general education professionals including Mary Falvey, Diane Haager, Robert Rueda, and Janette Klingner. They address the important overarching issues in the field and focus on topics that are relevant to students no matter what their individual disability. Topics include:
Working collaboratively with families as partners
Including students with disabilities in general education settings
Providing appropriate instructional practices for struggling learners
Reducing the disproportionate representation of minorities in special education programs
Establishing early intervention in K-12 settings
Implementing special education law for the benefit of all children and families
Foreword by Michael M. Gerber ix
Acknowledgments xiii
The Editors xv
The Contributors xvii
Introduction xxiii
1. The Promise and Practice of the Individuals with Disabilities Education Act 1
Nancy E. Huerta
From the Field: Reflecting on the Realities of Implementing Special Education Law, Marlene Canter
2. The Evolving Relationship Between Families of Children with Disabilities and Professionals 35
Elizabeth J. Erwin, Leslie C. Soodak
From the Field: Gabriel's Journey—Never Quite Finished, Virginia M. Victorin
3. Inclusion of Students with Disabilities in General Education 71
Holly Menzies, Mary A. Falvey
From the Field: A Personal and Professional Journey with Inclusion, Robert W. Farran
4. Gaining Access to the Schoolhouse 101
Richard Cohen, with Terese C. Jimenez
From the Field: Accessing the Schoolhouse for Richard, Sandra Renteria
5. Reducing Disproportionate Representation in Special Education: Overview, Explanations, and Solutions 131
Robert Rueda, Janette Klingner, Nicole Sager, Alejandra Velasco
From the Field: Reflections on Disproportionality, Alnita Rettig Dunn
6. Early Intervention for Students in General Education: Promoting Academic Achievement for All 167
Diane Haager
From the Field: Addressing the Challenges of Early Intervention, Jo Ann Isken, with Terese C. Jimenez
7. Differentiated Instruction: Legislative Support and Classroom Practices 195
Tanya Santangelo, Greg Knotts, Katharine W. Clemmer, Marianne Mitchell
From the Field: Benefits and Challenges of Differentiated Instruction, Savina Woodyard
8. Transition Services and Education for All 241
Ernest Rose
From the Field: Supporting the Transition of Individuals with Disabilities, Gina Semenza
9. Personal Experiences with Disability and Special Education 267
Discovering the Real Me, Sue Rubin
A Lifelong Journey, Olegario D. Cantos VII
From Instinct to Intellect, Janeen Steel
From the Field: Building Academics, Leadership, and Community, Sandi Drinkward
Appendix: Discussion Questions 317
References 327
Index 351
The leading voices in Special Education discuss how the field has evolved over the past three decades, predict where Special Education research and practices are heading, and make recommendations for classroom teachers and other professionals working with special needs students.

Features contributions from nationally-known Special Education professionals, including Rutherford Turnbull, Ann Turnbull, Robert Rueda, and Alfredo Artiles.
Includes a bonus appendix with discussion questions from each chapter, to help instructors who are using the book as a text.