Education and Society: Issues and Explanations in the Sociology of Education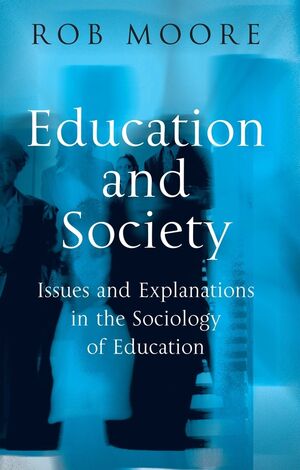 Education and Society: Issues and Explanations in the Sociology of Education
ISBN: 978-0-745-61709-1
Nov 2004, Polity
224 pages
Description
This new book is a lively and highly accessible introduction to the sociology of education. Written in a clear and comprehensible way, it introduces students to the key theoretical perspectives and conceptual frameworks in the sociology of education, and provides a guide to contemporary issues and current debates.





The book reviews the ways in which sociology contributes to our understanding of the relationship between education and society. The sociology of education is treated in historical depth, dealing with the classic thinkers as well as with contemporary approaches and issues. In doing so, it critically engages with wider debates in social theory. There is an extensive treatment of Durkheim and of the work of Bourdieu and Bernstein, as well as discussion of post-modernism drawing upon recent ideas in epistemology and philosophy of science to address the question: What should we teach? The book covers the macro relationships between education and the economy and state and the micro processes of the classroom and school. A central concern is with inequalities of class, gender and race and their treatment by different sociological perspectives.


Education and Society will be an essential text for students of sociology and education.
Introduction.
Chapter 1 Differentiation and Inequality.
Chapter 2 Education, Economy and Class.
Chapter 3 Education, State and Status.
Chapter 4 Positions, Strategies and Change.
Chapter 5 The Structure of Pedagogic Discourse.
Chapter 6 The Problems of Knowledge.
Conclusion.
References.
Index
"This is an outstanding contribution to our understanding of education and sociology. It locates current debates in the sociology of education within a broader framework of classical social science. Anyone interested in the study of education should read this book."
Phil Brown, Economic and Social Research Council

"This book makes an important contribution to the existing literature. It brings together a number of theoretical perspectives with a coherence and comprehensiveness that is difficult to find. The author does a skillful job of synthesizing complex topics and diverse thought."

Vanessa Smith Morest, Columbia University


lively and highly accessible introduction to the sociology of education.


introduces students to the key theoretical perspectives and conceptual frameworks in the sociology of education


provides a guide to contemporary issues and current debates.


criticially engages with wider debates in social theory.


Discusses Durkheim, Bourdieu and Bernstein, as well as post-modernist thinkers