Educational Psychology: Reflection for Action, 2nd Edition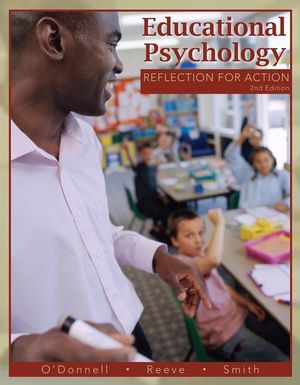 Educational Psychology: Reflection for Action, 2nd Edition
ISBN: 978-0-470-47146-3
Oct 2008
Product not available for purchase
Description
Written by experts in cognition, motivation, and assessment, the new second edition provides an effective framework that not only makes the study of educational psychology manageable, but also develops new teachers into reflective practitioners. It integrates real classroom cases, thought-provoking questions, and synthesizing activities to guide readers through a unique four-step process that seamlessly translates theory into practice, and helps make reflection an everyday practice.
Chapter 1. Introducing Educational Psychology & Reflective Practice.
Chapter 2. Effective Teachers and the Process of Teaching.
Chapter 3. Cognitive Development.
Chapter 4. Personal and Social Development.
Chapter 5. Individual Differences and Special Needs.
Chapter 6. Behavior Learning Theory.
Chapter 7. Classroom Management.
Chapter 8. Cognitive Theories of Learning.
Chapter 9. Learning from Peers.
Chapter 10. Social Constructivism and Learning in Community.
Chapter 11. Engaging Students in Learning.
Chapter 12. Motivation to Learn.
Chapter 13. Assessment for Learning.
Chapter 14. Standardized Assessments.