Educational Psychology: Reflection for Action, 3rd Edition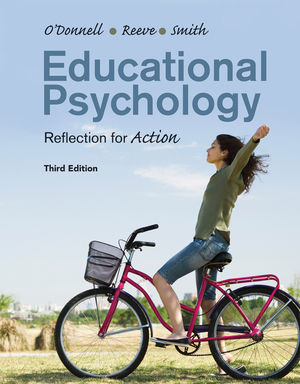 Educational Psychology: Reflection for Action, 3rd Edition
ISBN: 978-1-118-12915-9 December 2011 672 Pages
Download Product Flyer
Download Product Flyer
Download Product Flyer is to download PDF in new tab. This is a dummy description. Download Product Flyer is to download PDF in new tab. This is a dummy description. Download Product Flyer is to download PDF in new tab. This is a dummy description. Download Product Flyer is to download PDF in new tab. This is a dummy description.
Description
Teachers help students learn, develop, and realize their potential. To become successful in their craft, teachers need to learn how to establish high-quality relationships with their students, and they need to learn how to implement instructional strategies that promote students' learning, development, and potential. To prepare pre-service teachers for the profession, the study of educational psychology can help them to better understand their students and better understand their process of teaching. Such is the twofold purpose of Educational Psychology – to help pre-service teachers understand their future students better and to help them understand all aspects of the teaching-learning situation. The pursuit of these two purposes leads to the ultimate goal of this text – namely, to help pre-service teachers become increasingly able to promote student learning, development, and potential when it becomes their turn to step into the classroom and take full-time responsibility for their own classes.
Table of contents
1 Introducing Educational Psychology and Reflective Teaching xxxiv
Educational Psychology 2
Theories and Research 6
Narrowing the Gap between Theory and Practice 17
Reflective Teaching 19
2 Teachers and Teaching 28
The Teaching Life 30
What Is Teaching? 31
Teacher Development 33
Teaching Efficacy 41
Planning 48
General Approaches to Teaching 57
3 Cognitive Development 66
Brain Development 68
Cognitive Development 72
Sociocognitive Development 85
Language Development 93
4 Social Development 108
Relationships 111
Psychosocial Development 119
Moral Development 127
Social Competence 132
Aggression 136
5 Behavioral Learning Theory 150
Explaining Learning 152
Principles of Behavioral Learning Theory 155
Reinforcement 156
Punishment 160
Behavioral Learning Theory and Diverse Learners 164
Applied Behavior Analysis 165
Behavioral Learning Theory and Special Needs Students 167
Managing Behavior 167
Influences of Behavioral Learning Theory on Instruction 177
6 Managing Learning in Classrooms 186
Designing the Physical Environment 188
Designing the Social Environment: Norms and Rules 195
Managing Day-to-Day Classroom Instruction 206
Dealing with Behavior Problems 211
7 Cognitive Learning Theory 222
Cognitive Theories of Learning 224
The Information-Processing Model 225
Memory Systems 230
Encoding, Retrieval, and Forgetting 238
Categorization 244
8 Social Learning Theory, Complex Cognition, and Social Constructivism 254
Social Learning Theory 256
Complex Cognition 262
Complex Cognition and Social Constructivism 268
Instruction Influenced by Social-Constructivist and Sociocultural Theory 279
9 Learning from Peers 290
Perspectives on Peer Learning 292
Tutoring 304
Learning in Heterogeneous Groups 311
Collaboration and Technology 314
Influences on Effectiveness in Heterogeneous Groups 316
Learning from Peers: Practices for Learning 321
10 Motivation and Engagement 332
Engagement 334
Motivation 341
Intrinsic and Extrinsic Motivation 342
Psychological Needs 348
Curiosity, Interest, and Positive Affect 356
Engagement-Draining Motivational Deficits 360
11 Motivation to Learn 372
Motivation Is Rooted in Constructive Thinking 375
Self-Efficacy 376
Variability in the Classroom 414
Intelligence 415
Talent 423
Extremes of Intelligence 427
Differences in Ability and Instruction 429
Learners with Special Needs 430
Prevalent Student Needs and Challenges 435
Mastery Beliefs 381
Goals 387
Self-Regulation 397
Self-Concept 401
12 Individual Differences and Special Needs 412
13 Issues in Diversity 450
Diverse Learners 452
English Language Learners 460
Multicultural Education: An Overview 461
Implementing a Multicultural Approach to Teaching 465
Becoming a Teacher of Diverse Children 469
14 Assessment for Learning 482
Assessments in Everyday Life 484
Assessment for Learning: Roles, Goals, and Audiences 486
Principles of Assessment and Grading 489
Options for Assessment 491
Developing and Using Assessments 502
Interpreting Classroom Assessments 509
Developing a Grading System 513
Communicating with Parents 517
15 Standardized and Standards-Based Assessments 526
The Nature and Development of Standardized Assessment 528
Technical Issues in Assessment 534
Interpreting Standardized Assessments 547
Controversies in Assessment 555
Appendix: Looking at the Praxis II™ Principles of Learning and Teaching Assessment and the INTASC Principles 564
Glossary 574
References 582
Name Index 619
Subject Index 629
New To This Edition
New Chapter 13, Issues of Diversity, as well as diversity coverage integrated throughout the book where appropriate
New Organization:  the chapter on Individual Differences and Special needs has been fully revised and has been moved from Chapter 5  to Chapter 12, so it can be taught alongside the new content on diversity
Updated examples throughout to reflect current research and standards in education
Features
Chapter Openers: Cases of classroom situations and challenges that teachers encounter allow students to engage in reflection for action.
Guiding Questions: Encourage reflection by tying teaching issues to theories and research.
Taking It to the Classroom: Guidelines that help pre-service teachers link theory and practice.
Reflection for Action Questions: Relate content back to chapter-opener cases.
Reflection for Action Activities: Encourage drawing upon theory and research to provide answers to teaching questions.
What Kids Say and Do: Samples of children's work and conversations link theory and practice.
Uncommon Sense boxes present myths/misconceptions not supported by research.
Analyzing a Lesson Plan: This feature asks students to evaluate both elementary and secondary lesson plans in the context of the chapter topic.
Mindful Habits of Effective Teachers: Tips that exemplify habits of successful teachers.