Educational Psychology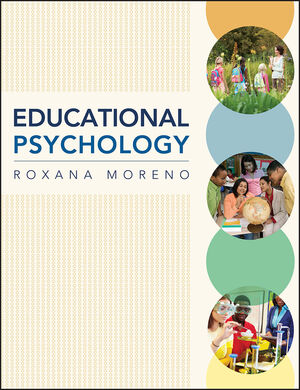 Educational Psychology
ISBN: 978-0-470-57135-4
Nov 2010
720 pages
Description
Educational Psychology First Edition will help students meet the challenges of today's classrooms. Future teachers want practical suggestions for why and how to use theory in the classroom. To support their preparation, this textbook emphasizes three challenges in teacher education: understanding and addressing the needs of the diversity of learners in the classroom, applying theories and research to the classroom, and critically examining teaching practices through reflection, problem-solving, and critical thinking.
Part I Preparing for the Realities of the Classroom.
Chapter 1: Educational Psychology: Becoming an Effective Classroom Teacher.
Chapter 2: Understanding Diversity in the Classroom.
Part II In the Classroom: Practical Uses for Theories of Child Development.
Chapter 3: Cognitive and Language Development.
Chapter 4: Personal, Social, and Moral Development.
Part III How Children Learn in the Classroom: Learning Theories.
Chapter 5: Behavioral Views of Learning.
Chapter 6: Cognitive Views of Learning.
Chapter 7: Complex Cognitive Processes.
Chapter 8: Social Cognitive and Constructivist Views of Learning.
Part IV Motivating and Managing a Diverse Group of Learners.
Chapter 9: Motivation Theories.
Chapter 10: Motivation in the Classroom.
Chapter 11: Managing Your Classroom and Creating a Successful Learning Environment.
Part V Critical Elements in the Classroom: Assessment and Technology.
Chapter 12: Classroom Assessment Strategies.
Chapter 13: Assessing Learning through Standardized Testing.
Chapter 14: Technology in the Classroom: An In-depth Guide to Learning with Technology.
Diversity is introduced early (chapter 2) and it is integrated throughout chapters and jn cases

Encourages reflection and critical thinking to underscore essential skills for reflection and self-evaluation, in addition to the classroom case activities

Applies a variety of research-based methods to validate the relevance of Educational Psychology with two types of authentic cases found in each chapter, both aligned with activities and learning objectives

"Diversity in the Classroom" cases have been designed to help students develop a realistic view about teaching and promote their problem-solving and critical-thinking skills. With these cases, students employ a problem-solving framework to work through the classroom dilemmas presented in each chapter's Problem Solving in the Classroom.

"Putting it All Together" cases model quality teaching practices that are based on the Education Psychology theories and research covered by each chapter, designed to help students identify educational psychology principles in action and to show the usefulness and relevance of the field to the teaching profession.

"Assess Your Prior Knowledge and Beliefs" each chapter begins with a set of open-ended questions allowing students to reflect on their prior knowledge, experiences, & beliefs about the chapter's central topics.

"Imagine You Are the Teacher" each chapter opens with a short scenario that functions as a schema activator and places the reader in a classroom situation, encouraging reflection on the topics examined.

"Connect What you Learned to Other Chapters" In this feature, students respond to questions that require them to make meaningful connections between new concepts with those learned in prior chapters.