Educational Renewal: Better Teachers, Better Schools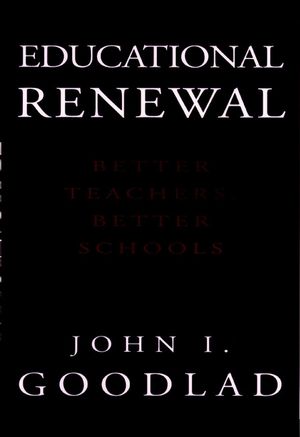 Educational Renewal: Better Teachers, Better Schools
ISBN: 978-0-787-94422-3
Aug 1998
336 pages
Description
"Once again Goodlad has his finger on the pulse of education. . . . Excellent reading for the professional educator."
--Choice

Goodlad picks up where he left off in Teachers for Our Nation's Schools --providing the vision and rationale behind centers of pedagogy that can bring schools and universities together in a close, renewing relationship.
1. New Settings.

2. Essential Conditions.

3. Unpacking the Postulates.

4. Partnerships and Partner Schools.

5. Curriculum, Curricula.

6. The Teacher Education Program.

7. Tomorrow's Schools and Communities.

8. Toward Centers of Pedagogy.
"Anyone interested in school improvement would benefit from reading Goodlad's incisive assessment of school partnerships, his eloquent presentation of the moral dimensions of educational issues, and his analysis of the ecology of school change." (Educational Leadership)

"Once again Goodlad has his finger on the pulse of education. This work puts many of the questions raised in his previous three volumes into a logical perspective. . . . He has clearly analyzed what is wrong with our methods of preparing today's teachers. Excellent reading for the professional educator." (Choice)

"The reform of teacher education is overdue. John Goodlad not only gives us a carefully crafted blueprint but sensible strategies to get there." (Frank Newman, president, Education Commission of the States)

"Must reading for those who are struggling to reform America's schools and the programs that prepare teachers to teach in them." (Mary Hatwood Futrell, director, Institute for Curriculum, Standards and Technology, the George Washington University)