Educational Testing and Measurement: Classroom Application and Practice, 10th Edition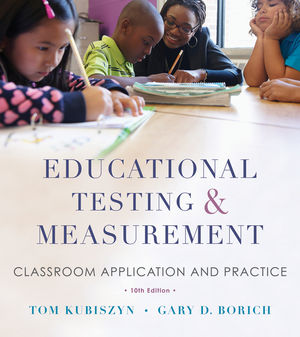 Educational Testing and Measurement: Classroom Application and Practice, 10th Edition
ISBN: 978-1-118-46649-0
Jan 2013
512 pages
Product not available for purchase
Description
An accessible, reader-friendly resource that equips educators with practical testing strategies for today's challenging educational environment.  The Tenth Edition of Educational Testing and Measurement integrates up-to-date research on international testing programs and how the results compare to the performance of American students. Expanding on competency testing for teachers, Educational Testing and Measurement includes recent developments that will be helpful to teachers in training. The text also helps teachers prepare their students for high-stakes testing and explains issues surrounding the topic including waivers, standards and proficiency goals. Additional research on the Response to Intervention approach to both general and special education reform is incorporated, highlighting the technical and implementation changes associated with this approach.
Chapter 1: An Introduction to Contemporary Educational Testing and Measurement
Chapter 2: High-Stakes Testing
Chapter 3: Response-to-Intervention (RTI) and the Regular Classroom Teacher
Chapter 4: The Purpose of Testing
Chapter 5: Norm-Referenced and Criterion-Referenced Tests and Content Validity Evidence
Chapter 6: Measuring Learning Outcomes
Chapter 7: Writing Objective Test Items
Chapter 8: Writing Essay Test Items
Chapter 9: Performance-Based Assessment
Chapter 10: Portfolio Assessment
Chapter 11: Administering, Analyzing, and Improving the Test or Assessment
Chapter 12: Marks and Marking Systems
Chapter 13: Summarizing Data and Measures of Central Tendency
Chapter 14: Variability, the Normal Distribution, and Converted Scores
Chapter 15: Correlation
Chapter 16: Validity Evidence
Chapter 17: Reliability
Chapter 18: Accuracy and Error
Chapter 19: Standardized Tests
Chapter 20: Types Of Standardized Tests
Chapter 21: In The Classroom: A Summary Dialogue
Chapter 1 has been revised to underscore the importance of incorporating multiple sources of information about students whenever important educational decisions are made.
Chapter 2 on high-stakes testing has been revised to inform readers about important developments that have occurred since the previous edition.
Chapter 3 on the RTI approach has been revised to emphasize recently published research that addresses the technical and implementation challenges associated with this approach.
Chapter 20 has been updated to include information on standardized tests that have been revised by their publishers since the previous edition.
Language has been refined and clarified throughout the 10th edition
New references have been added that reflect the most recent knowledge and research.
The complex and controversial issues around NCLB, high-stakes testing, and IDEIA are addressed in a thoughtful, non-biased way.
The authors have written the text with their primary audience - classroom teachers - fully in mind.
Presents complex, abstract ideas and procedures in an up-to-date, accurate, and accessible manner.
A friendly, conversational style stresses the application of theory while still providing ample theoretical background that provides students with a strong foundation in educational testing.
The organization and presentation of the content allows for maximum flexibility.