Educative Assessment: Designing Assessments to Inform and Improve Student Performance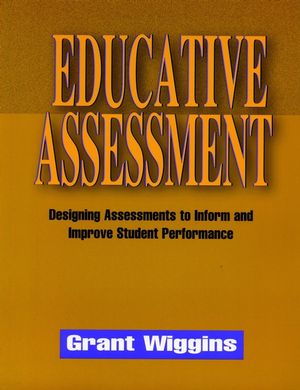 Educative Assessment: Designing Assessments to Inform and Improve Student Performance
ISBN: 978-0-787-90848-5 March 1998 Jossey-Bass 384 Pages
Description
Wiggins makes the most convincing case yet that school-based assessment should aim mainly to improve, rather than to audit, student performance. Thanks to his penetrating discussions of feedback, the relationship of formal designs to practice, teaching for understanding, and rubrics, this book should dispel common misconceptions and elevate both the understanding and practice of authentic assessment?
—Fred M. Newmann, professor of curriculum and instruction, University of Wisconsin , Madison

Assessing Student Performance laid out the theoretical foundations of a new assessment system that provides a more authentic picture of student capabilities than standardized testing. In Assessment for Excellence, Grant Wiggins provides guidance on how to design performance-based assessments for use in the classroom. This book covers all aspects of assessment design, including how to craft performance tasks that meet rigorous educational standards, how to score assessments fairly, and how to structure and judge student portfolios. It also looks at how performance assessment can be used to improve curriculum and instruction, grading and reporting?and teacher accountability.
Buy Both and Save 25%!
Original Price:$84.00
Purchased together:$63.00
save $21.00
Cannot be combined with any other offers.
Educative Assessment: A Vision.

ESSENTIAL ELEMENTS OF ASSESSMENT.

Ensuring Authentic Performance.

Providing Ongoing Feedback.

Promoting Student Understanding.

DESIGNING ASSESSMENTS.

Standards and Criteria.

Individual Performance Tasks.

Scoring Rubrics.

APPLICATIONS AND IMPLICATIONS.

Portfolio as Evidence.

Curriculum and Instruction.

Grading and Reporting.

Teaching and Accountability.

CHANGING THE SYSTEM.

Feasibility: Real and Imagined.

Next Steps.
"Provides more pragmatic advice and background (including extensive references) on active assessments." (Choice)

"Wiggins' newest book is rigorous and provocative, bringing to bear his understanding of teaching for understanding and its implications for performance-based assessment." (Knowledge Quest)

Grant Wiggins puts at once the current craze for 'assessment' of students on a higher, more commonsensical and moral ground. He brings the sharp eye of a philosopher and the constructive humility of a veteran teacher to the tasks of explaining what we must know about our students' knowing and what this means for practice. This is a constructively unsettling book on our attitudes about learning and about our all-too-familiar and challengeable habits of assessing for it. (Theodore R. Sizer, chairman, Coalition of Essential Schools)

"Through forceful, in-depth argument and diverse examples, Wiggins makes the most convincing case yet that school-based assessment should aim mainly to improve, rather than to audit, student performance. Thanks to his penetrating discussions of feedback, the relationship of formal designs to practice, teaching for understanding, and rubrics, this book should dispel common misconceptions and elevate both the understanding and practice of authentic assessment" (Fred M. Newmann, professor of curriculum and instruction, University of Wisconsin, Madison)

"Wiggins makes the most convincing case yet that school-based assessments should aim mainly to improve, rather than audit student performance. Thanks to his penetrating discussions of feedback, the relationship of formal design to practice, teaching for understanding, and rubrics, this book should dispel common misconceptions and elevate both the understanding and practice of authentic assessment." (Fred M. Newmann, professor of curriculum and instruction, University of Wisconsin, Madison)

"Linking curriculum and assessment is one of the most critical problems facing today's educators. Wiggins has given us an extraordinarily clear set of design principles to guide our practice. I recommAnd this book to curriculum designers, teachers, and administrators concerned with developing coherent curriculum resulting in improved student performance" "Educators engaged in writing and shaping curriculum should consider Wiggins' book a necessity to raise the quality of their efforts. His emphasis on critical design skills and his numerous practical examples makes this an accessible guide. Grant Wiggins is one of the most intelligent voices in the reform community. (Dr. Heidi Hayes Jacobs, educational consultant, editor, and writer)