Educause Leadership Strategies, Volume 1, Preparing Your Campus for a Networked Future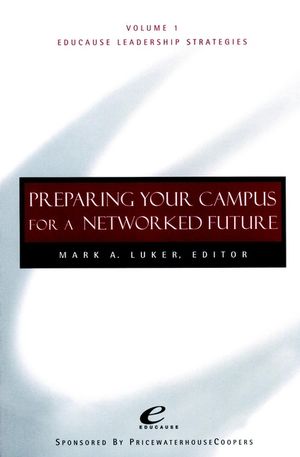 Educause Leadership Strategies, Volume 1, Preparing Your Campus for a Networked Future
ISBN: 978-0-787-94734-7 October 1999 Jossey-Bass 144 Pages
Download Product Flyer
Download Product Flyer
Download Product Flyer is to download PDF in new tab. This is a dummy description. Download Product Flyer is to download PDF in new tab. This is a dummy description. Download Product Flyer is to download PDF in new tab. This is a dummy description. Download Product Flyer is to download PDF in new tab. This is a dummy description.
Description
"Anyone with a serious interest in the future of education will find this book provocative, prescient, prescriptive, and pivotal. It is a must-read for those responsible for preparing educational institutions at all levels for their new role in our networked society."--Vinton G. Cerf, senior vice president, MCI WORLDCOM, and chairman, Internet Society

"Transformative. That's what networks are; that's the role our institutions must fill for society; and that's what our leadership must be. This book provides valuable insight into networks and the challenges we must address to ensure that higher education thrives in the Knowledge Age."--Molly Corbett Broad, president, University of North Carolina

"This book will prove essential to presidents and other campus leaders who must plan for, and invest in, the networking infrastructures that will powerfully impact the futures of our institutions."--John Hitt, president, University of Central Florida

"All of educational practice will eventually contribute to the creative and fast-paced links that we know through the Internet. The thoughtful essays in this volume can, indeed, help us prepare for that future."--Jane Margaret "Maggie" O'Brien, president, St. Mary's College of Maryland

This first volume from the EDUCAUSE Leadership Strategies series examines the changes and challenges that the advanced Internet2 will bring to higher education campuses everywhere. Edited by Mark Luker and featuring the insights of experienced campus leaders and information professionals, this forward-thinking guide provides a roadmap to the extraordinary capabilities of the advanced Internet to come. The contributors reveal how this new networking environment will affect business operations, academic instruction, libraries, information management, regional partnerships, federal funding, policy decisions, and more. Each chapter offers specific recommendations and strategic advice to help institutional leaders make complex decisions about the future of networking on their campuses-such as when, how, and how much to invest in upgrading current technology to support the new networking environment. Far from a technical study, Preparing Your Campus for a Networked Future is a pragmatic exploration of what leaders can do to prepare for continually evolving technology.
Cannot be combined with any other offers.
Original Price:$64.00
Purchased together:$48.00
save $16.00
Table of contents
Advanced Networking in Higher Education's Future (M. Luker).

Instructional Roles for Advanced Networks (C. Barone & M. Luker).

Libraries of the Future (R. Lucier).

Inventing the Advanced Internet (D. Van Houweling).

Preparing the Campus for Tomorrow's Network (P. Long).

Working with Neighboring Campuses (R. Hutchins).

National Policy to Broaden Participation in Advanced Networking (G. Strawn & D. Staudt).

How to Do More with Less (E. Chaffee).

Developing a Campus Vision and Leading the Way to Change (M. Luker).
Reviews
"Anyone with a serious interest in the future of education will find this book provocative, prescient, prescriptive, and pivotal. It is a must-read for those responsible for preparing educational institutions at all levels for their new role in our networked society." (Vinton G. Cerf, senior vice president, MCI WORLDCOM, and chairman, Internet Society)

"Transformative. That's what networks are; that's the role our institutions must fill for society; and that's what our leadership must be. This book provides valuable insight into networks and the challenges we must address to ensure that higher education thrives in the Knowledge Age." (Molly Corbett Broad, president, University of North Carolina)

"The networks of today and tomorrow are not merely collections of wired computers; they are engines of transformation that will affect virtually every aspect of life in the academy. This book will prove essential to presidents and other campus leaders who must plan for, and invest in, the networking infrastructures that will powerfully impact the futures of our institutions." (John Hitt, president, University of Central Florida)

"Libraries, classrooms, and pedagogy are already on the short list of targets transformed by networking technologies. All of educational practice will eventually contribute to the creative and fast-paced links that we know through the Internet. The thoughtful essays in this volume can, indeed, help us prepare for that future." (Jane Margaret "Maggie" O'Brien, president, St. Mary's College of Maryland)