Educause Leadership Strategies, Volume 6, Technology Everywhere: A Campus Agenda for Educating and Managing Workers in the Digital Age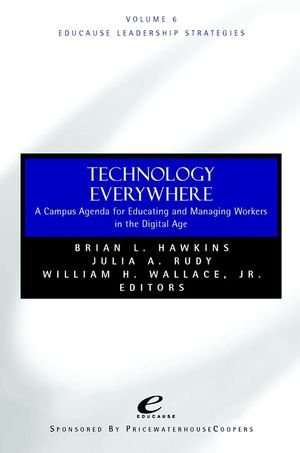 Educause Leadership Strategies, Volume 6, Technology Everywhere: A Campus Agenda for Educating and Managing Workers in the Digital Age
ISBN: 978-0-787-96611-9
Oct 2002, Jossey-Bass
160 pages
Description
Information technology (IT) has transformed human resource management across our society, and its influence on higher education has been profound. Technology Everywhere addresses the dual role played by colleges and universities that must recruit, hire, and train knowledge worker professionals and educate IT learners to manage the ever-increasing flow of information both on campus and off. Each chapter in this much-needed volume addresses a critical phase of IT human resource management, identifies key issues, and offers practical advice based on actual experiences that can help colleges and universities develop a plan of action to respond effectively to the IT workforce challenge.
Preface (Brian L. Hawkins, Julia A. Rudy, William H. Wallace, Jr.).

Acknowledgments.

The Authors.

Part One: The Context.

1. The Supply of IT Workers in the United States (William Aspray, Peter A. Freeman).

2. Information Technology Jobs and Skill Standards (Neil Evans).

3. IT Fluency: What Is It, and Why Do We Need It? (Herbert S. Lin).

Part Two: Campus Challenges and Solutions.

4. Campus Human Resource Leadership:A Mandate for Change (Lauren A. Turner, Susan Perry).

5. Recruiting, Retaining, and ReskillingCampus IT ProfessionalsAllison F. Dolan).

6. Technology Across the Curriculum:Information Literacy and IT Fluency (Anne Scrivener Agee, John G. Zenelis).

7. Economic Development Partnershipsto Close the Gap (Annie Hunt Burriss, William H. Wallace, Jr.).

8. Leadership Challenges for theCampus and the Profession (Brian L. Hawkins, Deanna B. Marcum).

Index.