Educause Leadership Strategies, Volume 7, Organizing and Managing Information Resources on Your Campus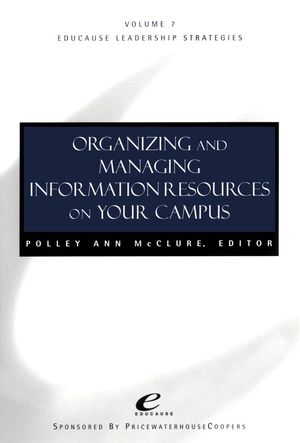 Educause Leadership Strategies, Volume 7, Organizing and Managing Information Resources on Your Campus
ISBN: 978-0-470-42960-0
Jun 2008, Jossey-Bass
176 pages
Description
In recent years, colleges and universities have experienced tremendous growth in the applications of electronic information and the technologies that support the effective manipulation, transmission, storage, and use of that information. Because the growth has been so rapid, campus leaders are often challenged to effectively manage this increasingly critical function. Organizing and Managing Information Resources on Your Campus provides an overview of current thinking about the most important issues involved in managing information technology and services on campus. This vital resource offers information on how to plan, organize, fund, assess, and govern these strategic assets. It also compares and contrasts approaches appropriate for large versus small institutions, research versus teaching missions, and private verses public models. And the book provides a synthesis of practical advice interwoven with general background discussion.
Acknowledgments.
The Authors.
1. Managing the Complexity of Campus Information Resources (Polley Ann McClure).
2. Building an Effective Governance and Decision-Making Structure for Information Technology (James I. Penrod).
3. Organizing Information Resources for Effective Management (James G. Neal, Polley Ann McClure).
4. Getting Beyond Budget Dust to Sustainable Models for Funding Information Technology (David L. Smallen, Jack McCredie).
5. Sourcing Information Technology Services (Alan McCord).
6. Resolving Information Technology Policy Issues on the Networked Campus (Tracy Mitrano).
7. Meeting the Cybersecurity Challenge (Ronald A. Johnson, Tracy Mitrano, R. David Vernon).
8. Managing University Business Continuity (Marilyn Ayres McMillan, Toby D. Sitko).
9. Assessing Information Technology: Changing the Conceptual Framework (Brian L. Hawkins, Carole A. Barone).
Index.