Edward Said: A Critical Reader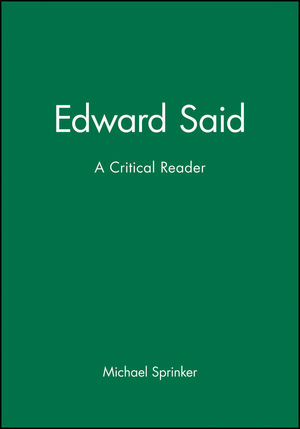 Edward Said: A Critical Reader
ISBN: 978-1-557-86229-7 March 1993 Wiley-Blackwell 284 Pages
Download Product Flyer
Download Product Flyer
Download Product Flyer is to download PDF in new tab. This is a dummy description. Download Product Flyer is to download PDF in new tab. This is a dummy description. Download Product Flyer is to download PDF in new tab. This is a dummy description. Download Product Flyer is to download PDF in new tab. This is a dummy description.
Description
This volume is the first book-length examination of Said's remarkable career, providing a critical survey of his writings and an interim assessment of his achievements in both the cultural and political spheres. This collection includes essays on the Arab-Islamic context of Said's work, his reception among Israeli and American Jews, the institutional contexts of his cultural criticism, and his interventions in Middle Eastern politics.
Table of contents
Introduction:
Michael Sprinker
(State University of New York, Stony Brook).
1. Connections with Palestine: Nubar Hovsepian (American Council for Palestine Affairs, New York).
2. Overlapping Territories and Intertwined Histories: Edward Said's Postcolonial Cosmopolitanism: Benita Parry .
3. The East is a Career: Edward Said and the Logics of Professionalism: Bruce Robbins.
4. Places of Mind, Occupied Lands: Edward Said and Philology: Timothy Brennan (University of Michigan, Purdue University).
5. Worldliness-without-World, Homelessness-as-Home: Towards a Definition of the Specular Border Intellectual: Abdul R. JanMohamed (University of California, Berkeley).
6. Antinomies of Exile: Said at the Frontiers of National Narration: Ella Shohat (City University of New York).
7. East of Said: Richard G. Fox (Duke University, Durham).
8. The Resonance of the Arab-Islamic Heritage in the Work of Edward Said: Ferial J. Ghazoul (American University in Cairo, Egypt).
9. The Palestinian Intellectual and the Liberation of the Academy: Barbara Harlow (University of Texas at Austin).
10. Their Own Words? An Essay for Edward Said: Partha Chatterjee Interview with Edward Said: Jennifer Wicke and Michael Sprinker .
Select Bibliography of Edward Said's Work.
Notes on Contributors.
Index.
Reviews
"Will introduce students to the multifarious cultural problems that can be subsumed under the rubric of
Edward Said."
Voice Literature Supplement
"An excellent collection of critical essays on the writings of Edward Said. Highly recommended as an assessment of one of the most influential and readable critics of today's international cultural scene." Language and Literature
"The reader is a vibrant collection of scholarly essays which elaborate different nuances which issue from Said's written work, his academic position, his politics, his cultural positionality, and the ways in which he negotiates these."
"It is a wonderful collection of dense and rigorous analysis, which covers cultural studies, anthropolgy, politics, literature and history."
"Reading through all these critical analyses of Said's work is refreshingly challenging, and it is rewarded at the end with the "Interview with Edward Said" with Jenifer Wicke and Michael Sprinker."
"The interview sweeps eloquently through major considerations, like nationalism, canonical works, narrativization, and marxism." Visions
Features
* This is the first critical survey of Edward Said's work.
* Excellent contributors.
* Said is one of the most prominent of living scholars.