Effective Healthcare Leadership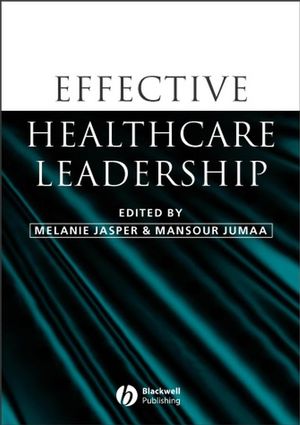 Effective Healthcare Leadership
ISBN: 978-1-118-77323-9 June 2013 Wiley-Blackwell 288 Pages
Description
Effective Healthcare Leadership integrates theory and practice to distil the reality of healthcare leadership today. It addresses the context and explores strategies for leadership and examines the leadership skills required to implement and sustain developments in healthcare. Section one examines the contemporary context and challenges of healthcare leadership. Section two offers opportunities through the CLINLAP/LEADLAP model to see how modern management ideas, tools and techniques are used effectively in leadership development. Section three examines the role of leadership in implementing change and improving practice in different contexts of care. The final section explores future challenges in leadership.
Foreword.
List of Contributors.
Introduction.
SECTION 1. THE CHALLENGES OF LEADERSHIP IN HEALTHCARE.
1. The Context of Healthcare Leadership in Britain Today (Melanie Jasper).
2. What is Leadership? A Critical Overview of Frameworks, Models and Theories (Mansour Jumaa).
3. What is Effective Healthcare Leadership? A Case Study of the NHS in England (Mansour Jumaa).
4. Strategic Leadership for Healthcare Management (Mark Hodder and Stuart Marples).
5. Healthcare Governance Through Effective Leadership (Rob McSherry, Alyson Wadding and Paddy Pearce).
SECTION 2. USING THE CLINLAP/LEADLAP MODEL FOR EFFECTIVE HEALTHCARE LEADERSHIP.
6. The CLINLAP Model - A Model for Nursing Management and Leadership Development (Mansour Jumaa).
7. Implementing the CLINLAP Model - A Case Study of Policy Change in Managing Deliberate Self-Harm (Janice Phillips, Helen Julu, Gülner Salih and Chris Gbolo).
8. Leadership Through Group Clinical Supervision (Jo Alleyne and Mansour Jumaa).
9. Leadership for Evidence-Based Practice (Mansour Jumaa, Ilkka Kunnamo and Melanie Jasper).
10. Leadership for Emotional Intelligence (Mansour Jumaa).
SECTION 3. STRATEGIES FOR MAKING A DIFFERENCE IN HEALTHCARE LEADERSHIP.
11. Leading Change in Primary and Community Care (Lindsey Hayes).
12. Leading an Older Persons' Outreach and Support Team Through Transformational Leadership (Nadia Chambers).
13. Leadership for Practice Development (Theresa Shaw).
14. Leadership in an Interprofessional Context: Learning from Learning Disability (Janet McCray).
SECTION 4. CHALLENGES FOR LEADERSHIP IN THE FUTURE.
15. The Challenges for Leadership in the Future (Melanie Jasper).
Index.
* Presents key leadership concepts and frameworks
* Demonstrates practical application of management theories, tools and techniques
* Critiques strategies for leadership in healthcare
* Examines leadership initiatives including healthcare governance, evidence based practice, practice development, emotional intelligence and group clinical supervision
* Explores leadership in different contexts of care
* Focuses on outcomes of different leadership strategies
* Presents an evidence-based approach for implementing effective change