Effective Interprofessional Education: Argument, Assumption and Evidence (Promoting Partnership for Health)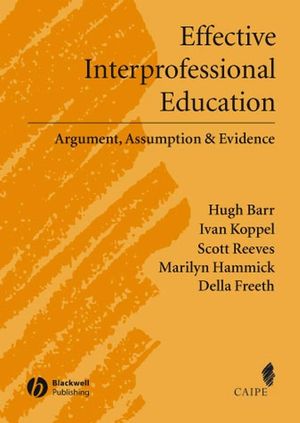 Effective Interprofessional Education: Argument, Assumption and Evidence (Promoting Partnership for Health)
ISBN: 978-0-470-77719-0 April 2008 Wiley-Blackwell 208 Pages
Description
This volume presents a systematic review of interprofessional education in health and social care. This is accompanied by a wider-ranging critique of interprofessional education, grounded by experience, and informed by sources beyond the evaluations that qualified for inclusion in the review. Synthesising the evidence base for interprofessional education nevertheless remains central, with 353 studies surveyed in the first instance, from which 107 studies form the basis for the final analysis.
The book does much more than amass evidence. It revisits conventional wisdom; setting an agenda to help interested parties perform better by applying lessons learned, remedying weaknesses and renewing efforts to address unanswered questions. The first three chapters set the scene for the systematic review and its findings. The middle section of the book articulates the findings of the review. Finally, the closing chapters consider values and attitudes, theoretical perspectives and offer conclusions.
Arguments, assumptions and evidence in this publication are presented to inform policy making, programme planning, teaching and research.
Table of contents
Contributors.
The Series.
Foreword by Dr Gerard Majoor.
Foreword by Professor Madeline Schmitt.
Preface.
Acknowledgements.
Glossary.
Rising to the challenge.
Learning to work under pressure.
Capturing interprofessional education in essence.
Reviewing the evidence base.
Distinguishing between domains.
Relating outcomes to foci.
Approaching learning and teaching.
Reconciling values.
Thinking theory.
Drawing the threads together.
List of Boxes.
List of Figures.
List of Tables.
Appendices.
References.
Index
Reviews
"In summary, this book is a valuable resource for anyone already involved in interprofessional education and for newcomers to the area. It provides a clear picture of the current position of IPE and offers a sound framework for future development."
Learning in Health and Social Care
"The authors have succeeded in synthesizing the evidence base for IPE and in so doing have established a knowledge base related to good IPE past and present programs. That accomplishment in itself is laudable; but the authors also have gone beyond that accomplishment and challenged the field to do better… and in the process have provided a blueprint for doing so."
Journal of Interprofessional Care

"Easy to read and a valuable resource to policy makers, program planners, team leaders, teachers and researchers"
Journal of Interprofessional Care
Features


Provides a glossary to demystify terminology and offer clear definitions

Reflects exchanges between international networks, along with associated developments

Identifies optimum conditions for harnessing the benefits of interprofessional collaboration

Appendices include search strategies, abstraction of studies and high quality studies