Effective Leadership Communication: A Guide for Department Chairs and Deans for Managing Difficult Situations and People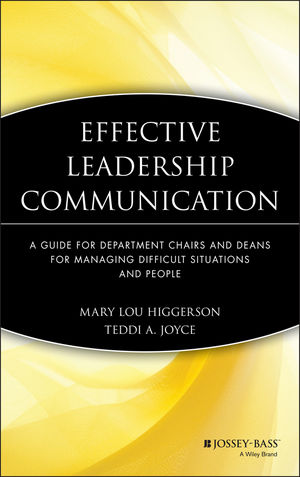 Effective Leadership Communication: A Guide for Department Chairs and Deans for Managing Difficult Situations and People
ISBN: 978-1-933-37119-1 January 2007 Jossey-Bass 272 Pages
Description
Conflict can appear with varying degrees of intensity or hostility, but if ignored or managed ineffectively, it can slow or jeopardize an institution's success. Chairs and deans, who have leadership responsibilities to both administrators and faculty, often find a significant portion of their jobs devoted to conflict management. Their leadership success depends on their ability to effectively manage a variety of conflict-laden situations, and negotiate people's varying needs and personalities.

This book, at its core, is about communication strategies that support effective leadership. First it shows how to establish a foundation for effective leadership communication; next, it discusses developing a fair and effective leadership communication style; and finally, it shows how to employ leadership communication to manage especially difficult people, from prima donnas to pot stirrers.

Each chapter contains a series of questions and prompts to guide readers through a hypothetical but realistic situation, and encourages them to cultivate and practice the first-person participant and third-person observer roles. By moving between these two perspectives, readers will gain more insight into their own style of managing conflict and understanding of leadership. This skill also permits academic leadership to have more strategic control over the communication in a particular situation, thus empowering them to feel and to be more in control in every situation.
Buy Both and Save 25%!
Original Price:$92.00
Purchased together:$69.00
save $23.00
Cannot be combined with any other offers.
Buy Both and Save 25%!
Original Price:$91.00
Purchased together:$68.25
save $22.75
Cannot be combined with any other offers.
About the Authors.
Introduction.
PART I: ESTABLISHING A FOUNDATOIN FOR EFFECTIVE LEADERSHIP COMMUNICATION.
1. Using the Institutional Mission to Empower Performance.
2. Setting Precedents Carefully.
3. Sharing Decision-Making Criteria to Inform Requests.
4. Establishing Your Leadership Credibility.
5. Building Relationships.
PART II: DEVELOPING A FAIR AND EFFECTIVE LEADERSHIP COMMUNICATION STYLE.
6. Managing Interpersonal Conflict.
7. Managing the Search Process.
8. Managing Performance Counseling.
9. Managing Faculty Morale, Changing Duties, and Shrinking Resources.
10. Managing Up and Out.
PART III: USING LEADERSHIP COMMUNICATION TO MANAGE ESPECIALLY DIFFICULT PEOPLE.
11. Managing Personal Agendas.
12. Containing the Pot Stirrer/Troublemaker.
13. Working With the Prima Donna/Drama Queen.
14. Managing the Confrontation Junkie.
15. Engaging the Passive and Indifferent Soul.
Annotated Bibliography.
Index.
"This book is for those who serve or aspire to serve as chairs of deans in higher education . . . " (Journal of Continuing Higher Education, Fall 2007)