Effective Writing in Psychology: Papers, Posters, and Presentations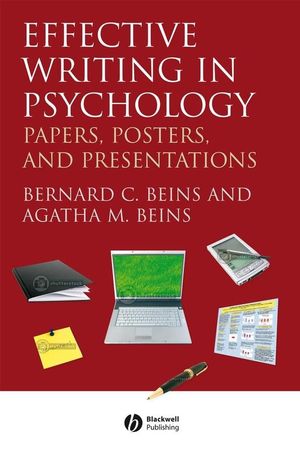 Effective Writing in Psychology: Papers, Posters, and Presentations
ISBN: 978-1-444-32675-8
Aug 2013, Wiley-Blackwell
288 pages
Description
This book helps students, writers and speakers at all levels refine their communication skills by guiding them at every stage of the process.



Focuses on principles of good writing and writing in APA style

Offers tips on internet publishing, poster presentations, and making presentations to Institutional Review Boards (IRBs)

Highlights methods for selecting a research topic, organizing papers and communicating statistics in an accessible way
1. Writing in Psychology.
Part I: Organizing and Developing Your Ideas and Writing:.
2. Formulating your Ideas.
3. Assessing Your Sources.
4. How to Conduct a Literature Search.
5. How to Read and Summarize a Journal Article.
6. Organizing a Paper.
7. Elements of Style.
8. Communicating Statistics.
Part II: Preparing APA Format Papers:.
9. Writing a Thesis or a Term Paper.
10. The Introduction Section.
11. The Methods Section.
12. The Results.
13. The Discussion Section.
14. References: Citations in the Text and the Reference List.
15. Final Touches: The Abstract and Formatting Details.
Part III: Communicating Beyond the Research Paper:.
16. Creating Poster Presentations.
17. Giving Oral Presentations.
18. Presenting your Work on the Internet.
19. Submitting Your Plan to an Ethics Committee.
Appendix A: Example of APA-Style Manuscript with Common Errors".
Appendix B: Corrected APA-Style Manuscript
"The quotations are not merely amusing or pithy; they effectively set the stage for what follows. The book anticipates both what students want and what they need. Beins and Beins have written a book that is much like Twain: An appealing mix of good humor and sound advice."
PsycCritiques<!--end-->
""This is an important book that students will use again and again for classes and for professional development activities to prepare exemplary reports in perfect APA format. Beins and Beins have eliminated the fear/intimidation factor many students experience when they prepare papers!"" Stephen F. Davis, Texas Wesleyan University

""Where was this wonderful, witty, and useful book when I was a struggling psychology major? Kudos to the authors on a splendid job."" Jane S. Halonen, University of West Florida

""Students and teachers of psychology will improve their research and writing if they follow the authors' practical guidance in this superb book. My advice: Read it and heed it!"" Charles L. Brewer, Furman University


Focuses on principles of good writing as well as writing in APA style

Offers tips on internet publishing, poster presentations, and making presentations to Institutional Review Boards

Highlights methods for selecting a research topic, and for organizing papers

Provides a separate section on how to communicate statistics