Eighteenth Century English Literature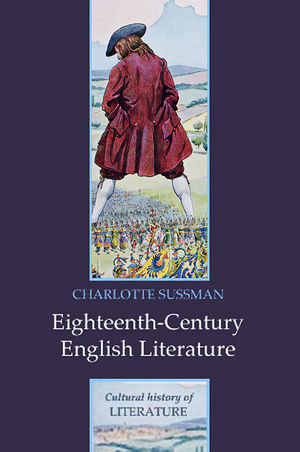 Eighteenth Century English Literature
ISBN: 978-0-745-63720-4 April 2013 Polity 200 Pages
Description
This engaging book introduces new readers of eighteenth-century texts to some of the major works, authors, and debates of a key period of literary history. Rather than simply providing a chronological survey of the era, this book analyzes the impact of significant cultural developments on literary themes and forms - including urbanization, colonial, and mercantile expansion, the emergence of the "public sphere," and changes in sex and gender roles.
In eighteenth-century Britain, many of the things we take for granted about modern life were shockingly new: women appeared for the first time on stage; the novel began to dominate the literary marketplace; people entertained the possibility that all human beings were created equal, and tentatively proposed that reason could triumph over superstition; ministers became more powerful than kings, and the consumer emerged as a political force. Eighteenth-Century English Literature: 1660-1789 explores these issues in relation to well-known works by such authors as Defoe, Swift, Pope, Richardson, Gray, and Sterne, while also bringing attention to less familiar figures, such as Charlotte Smith, Mary Leapor, and Olaudah Equiano. It offers both an ideal introduction for students and a fresh approach for those with research interests in the period.
Table of contents
Acknowledgements vi
Introduction 1
1 National Identity and a National Literature 9
2 Print Culture and the Public Sphere 41
3 The City 63
4 The Countryside 90
5 Individuality and Imagination 114
6 Religious Experience 136
7 Female Sexuality and Domesticity 156
8 Wit and Sensibility 185
9 Trade and Travel 205
10 Colonialism and Slavery 232
Notes 262
Index 280
Reviews
"an admirably lucid and up-to-date guide to the field"
The Year's Work in English Studies
"Sussman's study of 18th-century literature is very readable and clear as it is free from obfuscating theoretical jargon. It addresses a large market of general as well as academic readers, and even experienced and widely-read scholars and teachers, ever in danger of dogmatic stasis, will profit enormously from its new readings and occasional provocations"
Anglistik

"Professor Sussman has written an admirably lucid, lively book which conveys an enormous amount of up-to-the minute scholarship with concision, elegance, and lightness of touch. The book combines well selected thematic discussions and detailed readings of essential texts, with fascinating historical material in ways that will answer the readers' questions and open out vistas for further reading and research. A valuable introduction to the literature of this period for undergraduate and postgraduate readers."
Karen O'Brien University of Warwick



"Eighteenth-Century English Literature by Charlotte Sussman is an outstanding introduction to eighteenth-century literature: sophisticated, contemporary, but also accessible. The book would make a wonderful supplement to a course on eighteenth-century literature, either graduate or undergraduate, and offers much of interest to the curious general reader as well."
Laura Rosenthal, University of Maryland
Features
Introduction to the literature of the eighteenth century and its cultural, social and political contexts.

Ties literary developments to the shaping of modernity during the period, including the growth of cities, global trade and travel, and rights for women, workers and slaves.

Explores the emergence of new literary genres such as the novel.

Covers a range of authors and genres, both canonical and lesser-known.