Eighteenth-Century Europe: Tradition and Progress, 1715-1789, 2nd Edition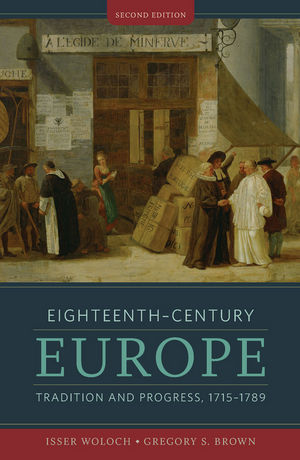 Eighteenth-Century Europe: Tradition and Progress, 1715-1789, 2nd Edition
ISBN: 978-0-393-92987-4
*Norton agency titles
362 pages
Product not available for purchase
Description
Eighteenth-Century Europe is the leading textbook of this pivotal period in European history.

The new second edition of the standard text on eighteenth-century Europe draws on the most important recent developments in the field to enrich its compact, accessible, and thematic history. There are several advantages to adopting this text.
Chapter 1: Government and Political Culture
Chapter 2: Warfare, Diplomacy and International Competition
Chapter 3: The Social Order
Chapter 4: Demographic and Economic Change
Chapter 5: Poverty and Public Order
Chapter 6: The Enlightenment
Chapter 7: Living the Enlightenment: The Public Sphere
Chapter 8: Churches and Religious Life
Chapter 9: Towards an Age of Democratic Revolution?
UPDATE BY TWO LEADING SCHOLARS
Gregory S. Brown, a specialist in the new cultural history of the period, joins leading author Isser Woloch in this revision. Updated throughout in its scholarship and approach-indeed, many of the chapters have been entirely rewritten-the book offers a fresh and effective survey of this critical period in European and world history.
THE PUBLIC SPHERE INTEGRATED WITH CULTURE & POLITICS
The authors incorporate insightful work on the public sphere to broaden the history of politics and culture in the period. The text maintains strong coverage of European social history, specifically the family economy of the poor, popular culture and the circulation of books, changing patterns of crime and punishment, and the social history of military and religious institutions. The chapter on the Enlightenment has been entirely rewritten.
STRONGER COVERAGE OF CENTRAL & EASTERN EUROPE
The new edition includes stronger coverage of Central and Eastern Europe, in particular chapter one on politics, chapter two on international relations, and chapter nine on revolutions.
CONCISE & STUDENT-FRIENDLY
The extensive revision to the leading textbook on Eighteenth-Century Europe incorporates the latest scholarship on social and cultural history but remains concise in length and accessible to students.