Eisenhower on Leadership: Ike's Enduring Lessons in Total Victory Management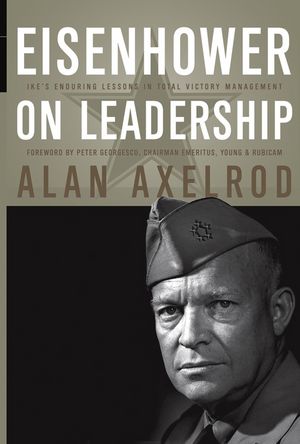 Eisenhower on Leadership: Ike's Enduring Lessons in Total Victory Management
ISBN: 978-0-470-62691-7 May 2006 Jossey-Bass 304 Pages
Description
Based on the findings in recently released archive papers and letters, as well as extensive library and historical resources, Alan Axelrod offers a compelling profile of the remarkable leadership discipline of a general often called a "military CEO." In fascinating detail, Axelrod reveals that Ike was more than a great military leader; he was also a great executive who could—and did—write a reassuring letter to the mother of a solider one moment and make decisions impacting millions of lives the next.

Follow Ike's path as Supreme Commander from the invasion of North Africa to victory in Europe and learn the lessons of great leadership along the way, including:
The nature of leadership
Managing detail without sacrificing the "big picture"
Ensuring follow-through to execution
Building a team
Converting conflict into common cause
Getting the facts and making plans
Mentoring, motivating, and inspiring
Foreword (
Peter Georgescu
).
Introduction: The Soldier as CEO.
1. Time of Trial: Ike and America Enter the War
2. From African Victory to Sicilian Conquest.
3. Supreme Commander.
4. From Crisis to Victory.
Afterword (Lieutenant General Daniel Christman, USA (ret.)).
The Author.
Index.
*FOREWORD by Peter Georgescu, chairman emeritus, Young & Rubicam
*PROVEN FORMULA: Eisenhower on Leadership will be Alan Axelrod's first book in six years to repeat the formula that made Patton on Leadership such a bestseller--recent bestselling titles on Eisenhower have led to increased interest in this past-president and general.
*AUTHOR PLATFORM: Alan Axelrod publishes widely yet gets consistently strong reviews from the business press. He will line up strong speaking engagements on Eisenhower to coincide with the D-Day anniversary and will push his contacts at CNBC, CNN, Inc., BusinessWeek, Fortune, etc. Despite his busy schedule, this will be Axelrod's only business title in spring or autumn 2006.
*TIMELY MESSAGE: In this era of prima-donna CEO's, Eisenhower provides a model of a leader who was also a great manager--attentive to details in logistics and communications as he was in strategy and personnel. Axelrod demonstrates that Eisenhower can teach how to pay attention to the bottom line without being a micromanager--and bring out the best in people even when egos are in heated conflict.